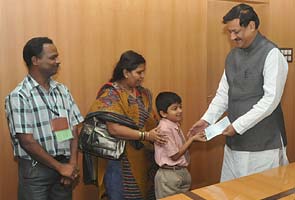 Mumbai:
In a touching gesture, an eight-year-old schoolboy donated his savings from pocket money and birthday party for the cause of drought-hit people in Maharashtra in Mumbai on Tuesday, an official said.
Kanishka R. Dongre, a class two student of Carmel School in Badlapur town of Thane district, specially went to meet Chief Minister Prithviraj Chavan in the legislative assembly and handed over Rs.5,000 for the Chief Minister's Relief Fund.
"He desired that the money could be utilised for providing help to the people in the drought-hit areas of the state," an aide to Mr Chavan said.
Moved by Kanishka's symbolic help, Mr Chavan praised the boy's efforts and wished him the best in his life.
Kanishka was accompanied by his mother and father Raju Dongre, who works as a photographer in the government's Public Relations department.
At least 15 districts of Maharashtra are presently reeling under what is described as the worst drought in the past 40 years, hitting 11,801 villages.
As many as 7,075 villages are being supplied water by 2408 tankers, according to official figures.