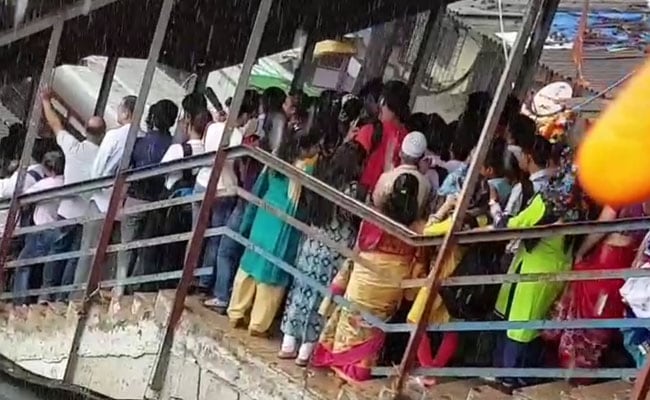 Mumbai:
In a bid to prevent incidents like the Elphinstone station stampede that claimed 23 lives, the railway administration has undertaken a drive to evict illegal hawkers from the entry and exit points of the station as well as from the foot overbridges to ease commuter movement.
Twenty-three persons were killed in the stampede on a foot overbridge (FoB) linking two railways stations in Mumbai on Friday during the deadly rush hour.
"Though action against hawkers is undertaken on a regular basis, from October 1, this drive has been intensified with a combined operation launched by the RPF and GRP, and moreover they will also be patrolling the FoBs," said chief spokesperson of the Western Railway Ravinder Bhakar.
However, passengers and railway representatives want permanent eviction of hawkers and have warned the railway officials that they would report to the Railways Minister if the hawkers return to do business at these spots.
Mr Bhakar said Western Railway administration is soon going to demarcate the railway area to stop this menace forever.
He said, "Most of the complaints against hawkers we receive, fall under the Brihanmumbai Municipal Corporation (BMC) area where we do not have our administrative control.
"So we are blamed unnecessarily. Therefore, we have decided to demarcate our periphery and we will keep full vigil within our jurisdiction."
The Central Railway too has launched a drive against illegal hawkers at several stations including Ghatkopar, Kurla, Byculla, Mulund.
Eviction of hawkers paved way for smooth movement of commuters near railway stations and on foot overbridges.
Senior PRO of Central Railway AK Jain said, "Though our security forces, keep driving away unauthorised hawkers, they have been now been asked to deal strictly with them."
Rajiv Singal, who has been a member of Railway Users Consultative Committees in Central Railway and Western Railway, however, dubs this exercise of evicting hawkers as merely an "eyewash".
Mr Singal said, "This is simply dressing up and no permanent cure. It is showoff because audit team is doing their job and media pressure is working. I can bet you, hawkers will be back again."
"Until and unless, disciplinary action is not taken against the senior RPF officials in whose jurisdiction hawkers operate, nothing is going to change," Mr Singal said.
TN Dubey, former member of Divisional Railway Users Consultative Committees in Western Railway, said, "If hawkers come back, we will write to the Railways Minister and draw his attention to the issue."