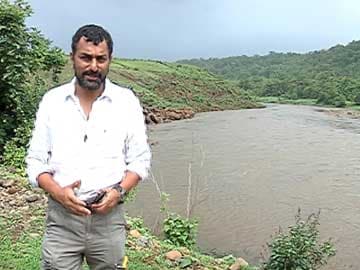 Mumbai:
Three hours east of Mumbai, deep into the Western Ghats, a monsoon-drenched landscape of hills and fields that will soon be drowned to bring water to a thirsty city.
Work has already begun on the Kalu dam, one of 12 new dams meant for the Greater Mumbai region that will, together, submerge 22,000 hectares of land, some of it forested, and displace nearly 40,000 people.
But at Kalu, there is growing resistance uniting both wealthy farmers and tribal communities. The dam developers are offering Rs 9 lakh per family as compensation. Haribhau, a paddy farmer tells us they do not want the money. He says the farm land is "our motherland, if our mother land goes, where ever we go we won't get peace".
On paper, the government claimed the villagers had given consent to the project. But a video recording of one of the several gram sabhas held to get the villagers consent shows that the villagers, indeed, did say no.
A local activist, Indavi Tulpule has moved the Bombay High Court and managed to get a stay on the dam for starting construction without complete clearances.
Quite apart from the human and environmental costs of the dams, what makes them all the more contentious is that it's entirely unclear if Mumbai has a water crisis to begin with.
Mumbai, we are told by city officials, doesn't have enough water. The reason, we are told, are what are known as illegal slums, that came up after a 1995 cut-off. The city doesn't supply the post-1995 slums water, and so slum dwellers have to queue up for water, often from stolen connections.
Now, with elections looming, they will be officially given water. It is to meet their needs, and end wastage that Mumbai needs dams, says Mumbai's municipal commissioner Sitaram Kunte.
The reality is different. The floating poor only consume only 70 million litres of water a day (MLD), a fraction of Mumbai's total consumption of 3750 MLD. The new dams will provide more than 3000 MLD of water.
Moreover, the daily wastage of water in Mumbai is huge: almost 30%, equivalent to 2 medium-sized dams.
Officials say theft is mainly responsible for the wastage, but by giving slum dwellers official water connections, water loss will reduce.
But once again, facts suggest that Mumbai's ageing pipeline network is the real culprit for loss of water. According to Mr Kunte, 20-22% wastage is because of water leaking out of pipes.
Lack of funds cannot be an excuse. Mumbai's water department is one of the wealthiest in the country, clearing profits of Rs 300-Rs 400 crores every year. When asked why the money isnt used to repair pipelines, Mr Kunte said the process is underway.
Another indirect form of 'wastage' is Mumbai's profligate consumption: residents in high-rises are alloted 260 litres per person per day (PCPD), nearly double of that in major cities like Singapore, Paris or London. Slum dwellers by contrast are allotted 45 PCPD.
City officials concede every attempt at better water management - from rainwater harvesting, to sewage treament - has failed. After rainwater harvesting was made mandatory 7 years ago, only 3000 buildings have implemented it. Activists say if properly done, it can save up to 700 MLD a day, again, comparable to a medium-sized dam.
In a rare admission, UPS Madan, the head of Mumbai's Metropolitan Development Authority, the nodal planning body for the city and its suburbs accepted that dams are not a long-term solution. "Well if there is no other alternative one has to go for that but there are serious environmental issues where there is forest land or rehabilitation of people. There are large numbers of villages which have to be shifted. There are serious issues and therefore one has to concentrate on how we can manage our water. How we can manage our demand rather than keep on supplying water because it's not an unlimited quantity, it comes at a huge cost", he said.
But there is no roll back on the dams that have been commissioned.
Nor will there be, the villager say, on their resistance. As one of them told us, "We will die here. If time occurs, we will drown ourselves in water. We do not want this dam."