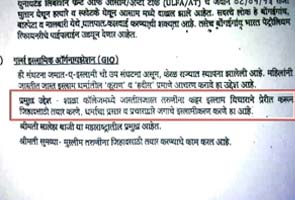 Mumbai:
The Jamaat-e-Islami Hind has slapped a Rs 10-crore defamation suit on the Mumbai Police over its memo that said the educational institutions run by the Islamic body is trying to enroll female students as jihadis.
The memo, issued in April, said that though the stated objective of the Girls Islamic Organisation "is to make more Muslim girls aware of their religion and the holy Quran, its main objective is to indoctrinate school and college girls and train them for jihad." The memo asked the cops to "keep a close watch" on the organisation. (
Read
)
The Jamaat-e-Islami Hind, formed in 1948 and considered one of the most influential Islamic organisations in the country, is the parent body of the Girls Islamic Organisation of India.
In a press release, the Jamaat said the police accepted that they found nothing incriminatory against the Girls Islamic Organisation. The organisation, therefore, thinks it is necessary to compensate for the damages done.
Taufique Aslam Khan of the Jamaat told NDTV, "The police had admitted that they had made a mistake but they did not apologise in writing. We are suffering financially and the girls who study in our schools are facing taunts."
He added, "If preaching a religion, which is guaranteed under the Constitution of India, creates suspicion, then every devout Hindu, Muslim or Christian will be a suspect. It is dangerous for a plural society like ours."
The suit, filed in the Bombay High Court today, names the Government of India, Government of Maharashtra and the Maharashtra Director General of Police as respondents. A date for hearing has not been allotted yet.