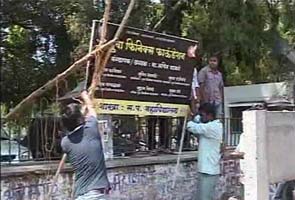 Mumbai:
Mumbai and other cities across Maharashtra will now be free from illegal political hoardings. An estimated 15,000 illegal hoardings have been removed in just 24 hours by civic bodies across the state after the Bombay High Court cracked the whip - remove them by Thursday or face action, it said.
So, 6,114 illegal hoardings were removed in Pune, 5,065 in Mumbai, more than 1,500 in Thane and 642 were removed in Nagpur. The civic bodies were asked to file a compliance report, which was submitted in court today. "We are appreciative of your efforts but the drive must continue," the court said. "Responsibility does not lie with the corporation alone, but also on the local police and local political leaders," the court added.
"Politicians at the local level put up these posters and the civic bodies do not take any action. Today, cities across Maharashtra have been cleaned and this cleanliness must be maintained," said Prabhakar Chaudhary, the petitioner in the case.
Mumbaikars, meanwhile, welcomed the move. Ritesh Tomar, a frequent visitor to Worli Naka which, till Thursday, was packed with illegal hoardings, said, "It is actually good not to have so many hoardings...it looks neat and clean and the area is more visible."
Rahul Narvekar, the head of the Shiv Sena's legal cell, told NDTV, "Political parties across party lines will come together, share the responsibility of keeping our city clean." The Shiv Sena, incidentally, controls the Brihanmumbai Municipal Corporation, the nodal civic body that governs Mumbai.
With the illegal hoardings gone, Mumbai's streets now bear a different look. But many Mumbaikars are sceptical of how long this order will be in place. But with the High Court asking the cops and the Corporation to keep a watch, one hopes the menace has been dealt with finally.