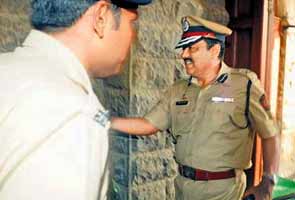 Mumbai:
The hearts of bar owners skipped a beat after news of Arup Patnaik's appointment as Mumbai's new Commissioner of Police spread across the city last evening.
Some of Patnaik's contemporaries rate him as a 'bar buster'. Others say he leads from the front with a hockey stick and a hunter in his hand.
Patnaik's juniors recalled how he made Bollywood actor and yesteryears' Tarzan Hemant Birje and a few others do sit-ups in a bar at Andheri. This was quickly followed by raids on several bars in western Mumbai, which were the favourite hangouts of members of the underworld.
Patnaik, during his stint as deputy commissioner of police in the western suburbs, was one of the key officers who took part in the 1991 Lokhandwala operation in which Dilip Buwa and Maya Dolas were killed.
A team, led by former additional commissioner AA Khan and Patnaik, soon raided Dagdi Chawl, gangster Arun Gawli's stronghold and nabbed key shooter Tanya Koli with a large cache of arms.
"It is very likely that the new Commissioner of Police would rather be on the streets of Mumbai than hold routine durbars in his cabin," said an IPS officer, who did not wish to be named.
Confirming this, minutes after assuming office, Patnaik said he would like to serve the people on the city's streets. He reminisced that he had worked in almost all the departments in the state police.
The former additional director general of the highway traffic police will replace Sanjeev Dayal, who has been promoted to the rank of director general of police for housing.
Maharashtra's new Director General of Police, Ajit Parasnis, on the other hand has merely 80 working days and may not have enough time to visit all the far-flung districts in the state, said an officer.