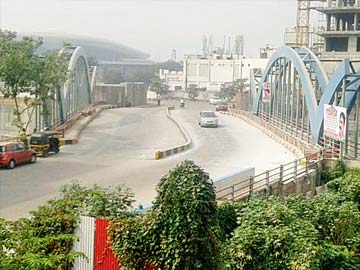 Mumbai:
In the new year, commuting to the international airport will be a much easier task. Thanks to the opening of the new MTNL road, travelling to the airport from Andheri-Kurla won't be cumbersome and driving time would reduce from approximately an hour to around 3-5 minutes.
The civic body threw open the road on December 29 and along with the Sahar elevated road, the commute to the airport won't be tiring anymore. In addition to the Rs 7.68-crore road, officials are also constructing another road from Andheri-Kurla to the airport called the Lathia Rubber road, which will pass the Lathia Rubber Company and meet the Sahar road.
This road is expected to be ready by April 2014 and will cost Rs 14 crore. "This road is important, as Sakinaka is rapidly becoming a crucial area and is being aggressively developed. Only around 5 per cent of work is pending, and with the completion of the road, people from Sakinaka will commute in around three minutes," said RTI activist Anil Galgali.
Motorists speak
Commuters said that the road is a boon for them. "We had to go through a lot of trouble, as there would always be bumper-to-bumper traffic. However, the MTNL road is a huge relief to us and the Lathia road will only make things better for us," said Sidesh Patole, a resident of Sakinaka.
Expressing similar sentiments, Santosh Salunkhe, a frequent traveller to the area, said, "The load of traffic will definitively reduce, as the roads are not only shortcuts, but also well-planned." A traffic cop said that the situation would improve gradually. Prabhakar Bhilare, constable of Saki Naka traffic police, said that the road would be surveyed for a month and before that they won't be able to say if the road would be helpful in easing traffic."
Rs 7.68 crore
Cost of building the MTNL road