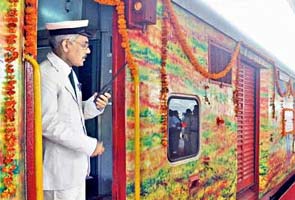 Mumbai:
While high-speed trains have been zipping passengers across cities and continents in Western and Asian countries for years, the idea of introducing the bullet train is finally going to be a reality in India.
Three days before the Rail Budget, there is good news for the city's Gujarati businessmen and workers alike.
In what could be a first for the Indian Railways, a high-speed corridor for long distance passenger trains has been proposed between Mumbai and Ahmedabad. An announcement to this effect is likely to be made on March 14 by Railway Minister Dinesh Trivedi.
The 500-kilometer-long Mumbai-Ahmedabad route, which currently takes seven hours on the fastest train the Mumbai-Ahmedabad Duronto Express, is lined up for the introduction of bullet trains.
"Initially trains will run at 200 km/h, but gradually, after significant improvements and upgradation of crucial signalling and telecommunication systems, the trains will run at speeds in excess of 350 km/h," said a senior railway official, on condition of anonymity.
This would drastically bring down the travel time of passengers frequenting these two vital and financially strong cities, bringing the travel time down to a mere 4 hours. Railway authorities claim that this corridor would be the much-needed fillip for Indian Railways, and have estimated the high-speed line to cost Rs 60,000 crore.
The decision to accelerate the bullet train project comes against the backdrop of the report submitted by the Expert Group for Modernisation of Indian Railways, headed by technocrat Sam Pitroda, recently.
As per the report, the project would take at least ten years to complete and private investment would be pivotal to finance the project.
"We will look to explore the public-private partnership wherein we hope to expect an investment in the range of Rs 20,000 crore from them in the next five years," said another railway official.
The report also states that the government will have to share 20 per cent cost of the project, in case private investors face financial problems.
Meanwhile, railway officials also state safety measures will be taken into consideration before implementing the high-speed corridor because if trains exceed speeds even in the range of 10 km/h, the scope of accidents will grow multi-fold.
Railway officials believe that simply fencing tracks with concrete walls will not ensure complete safety, as often cattle cross the tracks, that at times leads to accidents and derailments.
In mid-2011, a delegation of experts from Japan visited Delhi and Mumbai for discussing high-speed corridors. They inspected the route on the Mumbai-Delhi stretch as part of high-speed corridor that will ply between Surat, Vadodara, Ratlam, Kota and Mathura.