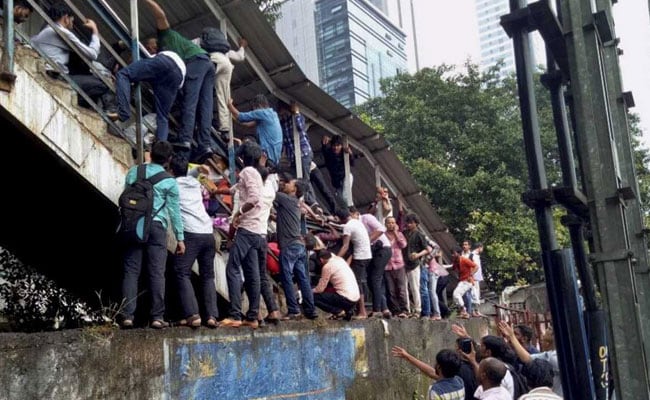 Mumbai:
Activists in Mumbai were pulled up by the high court for being casual about the safety of commuters and "waking up" to the "serious and sensitive" issue only after the Elphinstone Road station stampede killed 23 and injured many.
The stampede on the stairwell of a decades-old foot overbridge (FOB) at the station last month raised some serious questions about the infrastructure and safety of the commuters. Soon after the tragedy, at least four public interest litigations (PILs) were filed in the Bombay High Court seeking directions to the railways to take necessary measures to avoid an encore of such incidents anywhere.
The court today asked why these "activists-turned-petitioners" have remained silent so far and why did it take 23 deaths to shake them. "The station concerned and bridge is in existence since 1867, according to the petitions. Till date...till 23 people died...till the incident everybody closed their eyes to the problem. Now after the incident, these so-called activists have woken up and come up with PILs," a bench of Chief Justice Manjula Chellur and Justice NM Jamdar said.
The bench was hearing two PILs - one filed by Thane resident Vikrant Tawde demanding judicial inquiry into the stampede and another by Smita Mayank Dhruva, president of Congress' south Mumbai division, seeking directions for railways to take measures for better crowd management. Mr Tawde, in his petition, also sought for an exercise to be carried out to identify similar high risk railway stations, prioritise widening of bridges and zero tolerance towards hawkers and encroachers.
Another petition demanded that the railways remove bottlenecks on overbridges, install escalators and create multiple entry and exit points. Commuters had warned railway officials and the government via letters and tweets about the condition of the bridge. But no action was taken, it PIL said.
"All these prayers the petitioners should have sought before the incident," Justice Jamdar said. Justice Chellur added that these petitioners "only want to self-advertise".
Ms Dhruva was directed to inform the court about the work she has done in the past towards the decongestion of the Elphinstone Road railway station.
The court has decided to appoint a lawyer to assist them in the matter and posted the petitions for further hearing after four weeks.
(With inputs from PTI)