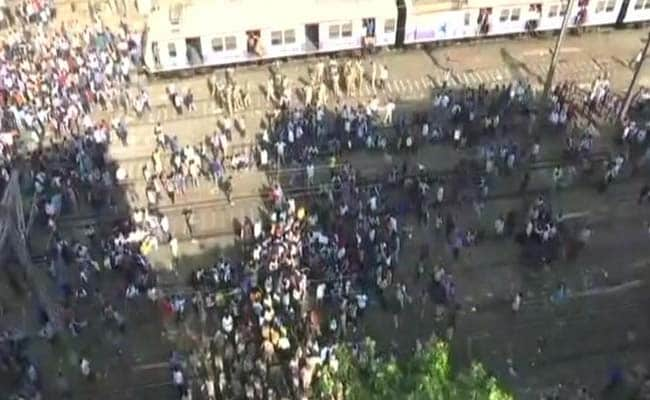 Mumbai:
After train services were affected due to students protesting on railway tracks, Maharashtra Chief Minister Devendra Fadnavis informed the legislative assembly that the railway administration has begun talks with the protesters, who are demanding railway jobs.
Thousands of local train riders in Mumbai were hit during rush hour
as students sat and protested for hours
on the rail tracks between Matunga and Chhatrapati Shivaji Maharaj Terminus stations. The protest, which started at around 7 am and went on till the blockade was called off at around 11 am,
forced the railways to stop running suburban and express trains.
The protest was being carried out by students who had done an apprenticeship with the Indian Railways and wanted permanent jobs.
Making a statement in the house, Mr Fadnavis said railways have increased the reservation for apprentices from 10 per cent to 20 per cent. "The youth are demanding 100 per cent reservation for apprentices in railway jobs. Railway administration has initiated talks with the protesters and a solution would be arrived at," he said.
Policemen had tried to remove the protesters from the tracks and even used batons as students refused to budge, holding up placards and shouting slogans demanding jobs in the railways, one of the largest public sector employers in India.
The protesters allegedly also threw stones at the local trains.
The students say there has been no recruitment for these jobs in the last four years
. "We are running from pillar to post. Over 10 students have committed suicide. We cannot let such things happen," a student told the Press Trust of India.
Leader of Opposition Radhakrishna Vikhe Patil raised the issue through a point of order before the Question Hour. He said the apprentices protested with a "chakka jaam" on Central Railway section for nearly four hours.
"Commuters had to face hardships because of disruption of railway services. But, we should consider the hardships of the youth as well. The railway administration was not forthcoming to talk to them and understand their demands. Instead, they were lathi-charged in which the youth were injured.
"Government should have shown some sensitivity by talking to the railway ministry and conveying their demands to the Centre. They were demanding jobs in railways, but railways have changed rules regarding recruitment of apprentices," he claimed.