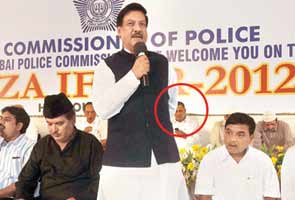 Mumbai:
That only a fine line divides our nation's lawmakers from its lawbreakers comes as no news. On Monday, however, even that line was blurred and dissolved, as representatives from the two sides cast aside the sham of pretence and came together to hobnob, in full public glare and under the arc lights.
Congress' tainted MLA Kripashankar Singh was one of the 'special' guests at an Iftar party organised by Mumbai Police at the Haj House on Monday, where he was seen rubbing shoulders with the state's 'squeaky-clean' chief minister Prithviraj Chavan, and other political bigwigs. Singh's presence is a matter of particular embarrassment to Mumbai Police, which, incidentally, has been conducting investigations against him.
Mumbai Police lodged an FIR against the politician in February this year for graft charges.
In March, Mumbai cops raided and attached various properties acquired questionably by Singh. In the subsequent month, a special investigation team of policemen submitted a report on Singh in the High Court, which then issued an order to Mumbai Police to attach his benami properties.
The same police force on Monday hosted the tainted politico at its party, where he shared the podium with Mumbai police commissioner Arup Patnaik, joint commissioner of police (crime) Himanshu Roy, joint commissioner of police (law and order) Rajneesh Sheth, additional commissioner of police Niket Kaushik. All the deputy commissioners of Mumbai police were also present at the event.

Hand-in-glove?
The political leaders and cops seemed to have no qualms hobnobbing with Singh. He appeared to share an easy familiarity with Chavan, even whispering into the latter's ears. He was seen interacting with other political bigwigs, including state home minister RR Patil, textile minister Mohammad Arif Naseem Khan, and other bureaucrats.
Promoting 'harmony'
"The iftar party is an annual function that the Mumbai police arrange for the Muslim community, to create harmony," said an officer from the Mumbai police department. Questioned about the 'other kind' of harmony on display at the party - that between cops and a politician under their scanner for graft - he said, "The person who sent out invitations for the event should have realised that we only recently booked Singh and his family members - wife Maltidevi, son Narendra, daughter-in-law Ankita, daughter Sunita and son-in-law Vijay Pratap Singh.
A slew of charges have been levelled against Singh - under Section 13 of Prevention of Corruption Act for criminal misconduct by a public servant. Sections of the IPC have also been invoked against him - including Section 420 (cheating), 464 (making a false document), 467 (forgery of valuable securities) and 468 (forgery for the purpose of cheating). "The investigation is being conducted by the special investigation team of the Mumbai police," said the police officer.
Coming up roses
Not only did the cops invite the errant politico, they also left no stone unturned in according him all the graces due to a 'special' guest. "Singh was invited by the Mumbai police and he was welcomed at the gate by the Commissioner of police Arup Patnaik. Later, a bouquet of flowers was presented to him by the Joint Commissioner of Police for Law and Order, Rajneesh Sheth," said the police officer.
The slew of charges against Singh has done nothing to deter the Congressman from making confident public appearances. Last month Singh, was spotted in one of the backbenches at the monsoon session of the State Assembly, chatting with other legislators with great ease. He was even visible at the recent funerals of screen legends Rajesh Khanna and Dara Singh last month.
'Double standards'
In March, the investigating cops had unearthed 460 bullets from Singh's house, most of which were unaccounted for. "Such incidents will demoralise the police department. On one hand, the commissioner suspended police constables who had said 'hello' to D K Rao or Sanjay Dutt, and on the other hand he is welcoming Singh, who should have been behind bars by now and have his property seized," said retired IPS officer and advocate Y P Singh.
The spokesperson for the Mumbai Police did not make himself available for comment, despite several attempts made by MiD DAY to contact him.
In spite of the fact that Singh is stuck neck deep in corruption charges, the Congress party seems unwilling to sever the umbilical cord and disassociate itself from the accused.
Singh resigned from his post as Mumbai's Congress unit chief in the face of the Bombay High Court's verdict on a PIL lodged against him, but the party still hasn't nominated another leader to take his place. The party took no action against Singh, opting to wait till Supreme Court responds to his appeal challenging the Bombay High Court's verdict.
A party member, speaking in confidence, asked how or why the party could initiate action till the Supreme Court found the politician guilty.
Get Breaking news, live coverage, and Latest News from India and around the world on NDTV.com. Catch all the Live TV action on NDTV 24x7 and NDTV India. Like us on Facebook or follow us on Twitter and Instagram for latest news and live news updates.