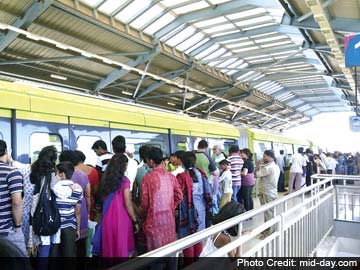 Mumbai:
Now that the Monorail is out and running, Mumbaikars can settle down and let reality crush the excitement surrounding the shiny new world-class service, thanks to the sheer crowd of commuters eager to use it and the delays that beset the services yesterday.
Many Mumbaikars went with their families to Wadala and Chembur stations for a joy ride on the recently inaugurated rail, but what they got was comparable to the 'local' experience riddled with overcrowding and hold-ups.
When it was closing time in the afternoon, it was clear that on its second Sunday, the Monorail hadn't offered the zippy, easy ride people thought it would.
Earlier through the day, the station at Wadala was overflowing with commuters pouring in from Chembur and those entering the premises to go there. However, the buzz of anticipation turned into a din of peeve, as passengers had to queue up in rambling lines to buy tickets, and then squeeze themselves into overfilled coaches, amid yells of security men.
A commuter waiting at the platform, Namrata Chitnis, said, "People were kept waiting for a long time. I boarded one of the last trains around 2.36 pm, after an hour's wait. My ride wasn't as joyful as I had expected it to be. The security guards were shouting out of frustration to manage the people getting off the trains. Many children were travelling without parents. Time and crowd management seem to be an issue."
At Chembur station, many commuters who were to board the last train to Wadala at 3.20 pm could not, since the operating authority Mumbai Metropolitan Region Development Authority aborted the concluding return service. Among these were enthusiasts who had got on board at Wadala solely for the to-and-fro ride. They were left to look for other means to get home.
Many children were seen playing near the platform edges, leaning in. Twelve-year-old Tonoya Sen said, "I almost got stifled. Hadn't expected so many people at the station. People were literally screaming. Even the Security Uncle kept shouting."
Dilip Kawathkar, joint project director (public relations), MMRDA said, "I talked to the officers at both the stations and they didn't recall a chaotic situation. In fact, there was an additional train which was plying today." Talking about security, he said, "We deployed enough guards to control the crowd. A delay of 5-10 minutes may have kept the trains back but so far as my knowledge goes, it was a smooth run today."