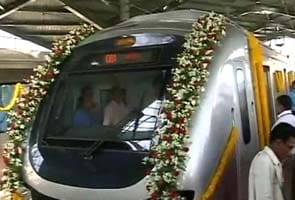 Mumbai:
Mumbaikars are one step closer towards major relief from traffic woes as Chief Minister Prithviraj Chavan today flagged-off the trial run of Versova-Andheri-Ghatkopar elevated Metro corridor.
Mr Chavan took a tour of the train draped in flowers before flagging it off. The corridor will be open to public in October 2013.
"It is very important for Mumbai's traffic. We will also launch the country's first monorail; in fact, projects worth Rs 5000 crore will be inaugurated this year," Mr Chavan said.
The 11.4 km elevated tracks will connect the western suburb of Versova to the eastern suburb of Ghatkopar through Andheri. There will be 12 stations on the route and the distance, which takes nearly one and a half hours by road, will be covered in just 21 minutes.
With a train every three-and-a-half minutes, the Metro will provide relief to those commuting from eastern to the western part of Mumbai who currently have to spend nearly 90 minutes to reach offices in MIDC area of Andheri. The Metro is expected to carry about six lakh passengers every day. The fares are expected to be between Rs 6 to Rs 15, depending on the distance.
The project has seen many delays. The construction on the corridor started in 2008 and the initial deadline was for December 2010, which was extended to June 2011 then March 2012. Later, it was again extended to November 2012 and finally to March this year.
The Reliance Infrastructure-led consortium Mumbai Metro One Private Ltd (MMOPL) is developing the corridor under public-private-partnership (PPP).