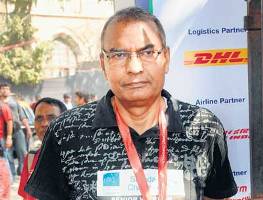 Mumbai:
When all eyes were set to spot the man crossing the finishing line at the Mumbai Marathon first, hardly anyone waited to cheer the participant who finished last.
Here's the story of a runner who is hardly remorseful of his defeat, he is rather proud of having finished the race.
Retired ACP from the Mumbai Police Mohammed Javed (59), who was the last man to reach the finishing line, is more than happy to complete the marathon.
He took nearly 6 hours 38 minutes against the stipulated 5 hours to complete the race.
He reached the finishing line when the organizers had already started closing the line and stopped recording timings.
Javed has been participating in the marathon since its inception in 2004. He has been participating in the full marathon for the past three years, before that he used to take part in the 21-km, half marathon.
"I run for my fitness and compete with myself.
Every year I record the time taken to complete the race. I am really happy that I finished better than last year."
He further added that victory or defeat doesn't matter much. "At the end of a race, it is the self satisfaction that matters".
The officer said the senior citizens should run for the cause of fitness. "Fitness should be the first priority.
Now you can see even police officers and constables participating in the marathon which is a good development," said the retired cop, who runs a 2-km lap daily at the Mahalaxmi racecourse.
Elaborating on the marathon, he said, "Since senior citizens and veterans participate in the full marathon, the time limit of five hours is very less.
It should be increased. This year the traffic was left in by 11, making it difficult for us to go through the road.
"There has been a considerable increase in the number of senior citizens participating in the race. So the organisers should give a certificate to the elderly participants to encourage them."