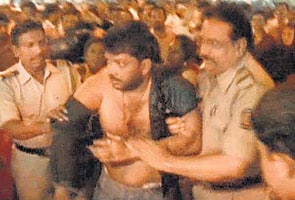 Mumbai:
The Mumbai police station was the site of a major family drama, as a 17-year-old boy registered a non-cognizable (NC) complaint against his mother for assaulting his father.
According to police officers, Saroja, the second wife of RTO agent Ayub Shaikh (41), was upset when she heard that Shaikh was planning his fourth marriage.
On Sunday, Saroja, accompanied by Shaikh's first wife, arrived at his house in Kurla, dragged him outside and began beating him. Shaikh and Saroja's son, Irfan, who lives with his father, witnessed the incident.
The scene turned so violent that the police officers patrolling the area witnessed the act and had to intervene to save Shaikh.
They took Saroja to the police station and let her off with a warning. But Saroja's son, Irfan, did not let his mother off before filing an NC against her.
Saroja said that Shaikh married her a few years ago but left her to marry a third time.
She had then filed a harassment complaint against her husband, following which the Kurla police had arrested Shaikh under Section 498 of the Indian Penal Code.
Shaikh, who got bail last week, was about to get married a fourth time, when Saroja and his first wife got wind of the news and landed at his house to maul him.
"Shaikh marries innocent girls and then abandons them only to find a new target. I do not regret anything I did. He deserves the same treatment from every woman he has married and ruined," said Saroja.
Senior Police Inspector Vijay Waghve said, "We have taken down the complaint against Saroja and let her off with a warning."
Get Breaking news, live coverage, and Latest News from India and around the world on NDTV.com. Catch all the Live TV action on NDTV 24x7 and NDTV India. Like us on Facebook or follow us on Twitter and Instagram for latest news and live news updates.