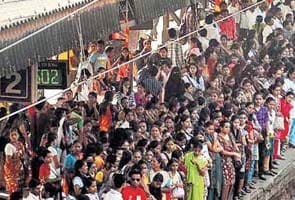 Mumbai:
Mumbai is India's most populated city with over 1.84 crore people, followed closely by Delhi with 1.63 crore and Kolkata with 1.41 crore, making these India's 'mega-cities', according to the preliminary Census 2011 results.
In terms of urban agglomeration or spread as an extended city -- that comprises built-up area of central and any suburbs or linked continuous urban areas -- Delhi National Capital Region (NCR) tops the list in the country.
The NCR, with the inclusion of Delhi, Gurgaon, Faridabad, Noida and Ghaziabad, has a total population of over 2.17 crore.
This is higher than the Mumbai Metropolitan Region with a population of 2.07 crore, which incorporates areas of Thane, Navi Mumbai, Vasai-Virar, Bhiwandi and Panvel, spread in Mumbai's adjoining districts of Thane and Raigad.
The preliminary results of Census-2011 were released by the Registrar General of India, an official statement said.
Among other major cities, Bangalore with an urban agglomeration population of 8.72 million (excluding Hosur) is now almost as big as Chennai with a population of 8.91 million.
Hyderabad, which was slightly bigger than Bangalore in 2001, has now grown to become the sixth largest city with a population of over 7.74 million, ranking after Chennai and Bangalore.
The other important cities in the top list include Ahmedabad with a population of over 6.35 million, Pune with over 5.04 million, Surat with 4.5 million, and Jaipur with 3.07 million, pipping Kanpur in the top ten slot.