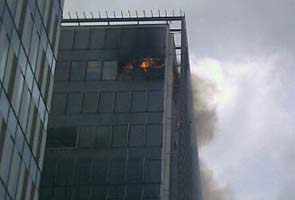 Mumbai:
A major fire broke out today on the 12th floor of the First International Financial Centre (FIFC) building in the busy Bandra-Kurla complex of suburban Mumbai.
Seven water tankers and seven fire engines were at the spot. The fire, which began at 10:45 am, was brought under control after nearly one and a half hours.
Flames and smoke was seen at the windows of the 12th floor. Reports say no one is trapped in the building, however, it is not immediately known whether there are people injured.
The fire officials had evacuated the FIFC as well as neighbouring buildings so as to avoid any injuries or casualties.
The FIFC is a commercial high-rise next to the Mumbai Metropolitan Region Development Authority (MMRDA) building. The Bandra-Kurla complex is emerging as the new business hub of Mumbai and a lot of companies and banks are now housed here.
The immediate cause of the fire is not known yet.