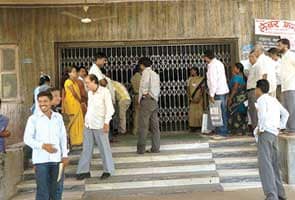 Mumbai:
In case the Ulhasnagar municipal workers were missing, or had missed out on, standing outside classrooms in punishment for reaching school late, Monday provided them a refreshing adult version of the old lesson in punctuality. Around 10.35 am, over 150 staffers at the headquarters of the Ulhasnagar Municipal Corporation were red in the face as they endured standing in the summer swelter for close to an hour outside their office. They came into this fate after the disciplinary action by Mayor Asha Idnani, who locked them out of the administrative complex for forcing citizens to cool off their heels by showing up late. Idnani, along with her assistant Ankush Kadam and corporator Sunil Gangwani, locked the collapsible metal grill gates at the building's entrance, making the officials stand outside.
Taste of their pill
Idnani, who was elected as Ulhasnagar's mayor just over a month ago, said she recently received a spate of complaints from citizens about the lackadaisical attitude of staffers. Due to the unpunctuality bureaucrats are well known for, citizens have to wait for hours before getting their work done or problems addressed. As such, the castigation amounted to poetic justice for most staffers.
"The trouble is people don't come on time. I cannot manage things on my own, and had been thinking of doing something (about latecomers) for a while. So (on Monday) I instructed the security guard to lock the gate at 10.35 am. By that time, over 150 employees had gathered outside. People spend money on transport to come and get their work done, and I wanted our staff to appreciate that," Idnani said. The mayor was firm about the execution of the punishment so that she sat at the gate with Kadam and Gangwani, allowing only non-staff members and citizens to enter.
According to sources, among the functionaries at higher rungs, only Mukesh Ailani, in-charge of electrical engineering, and Prajakta Kulkarni, the PRO, were present on time. Incidentally, a few staff members who came in much later managed to skip the whole drama, and simply strolled in when the gates had been reopened. The actual office hours begin at 10.10 am, and some employees arrived over an hour late.
Vijaya Kanthe, in-charge of the corporation's tax department who lives in Borivli, said she walked in at 11 am. "I cannot comment on what happened before or after I entered. The gates were open when I reached. I did notice the mayor sitting outside, and greeted her. I then went up to my office and began my work."

More deterrents
Idnani continued, "Staffers have now been instructed to report to work on time every day from now on, as the gates will be locked afterwards. A head-count will be done of latecomers, and repeat offenders will face action." She added that officials will now be directed to post their working hours outside their offices along with an explanation as to why they aren't in if they are away from the desk. Corporator Gangwani said, "The mayor's office has been receiving these complaints since the past 8-10 days. She has written to the secretary and the commissioner, instructing them to take strict action against latecomers."