Mumbai:
In a new twist to the overdose mystery, Indrani Mukerjea has alleged that her life is in danger in Byculla jail, where she was sent back yesterday from JJ hospital. Two days before her return to prison, she told the police that she did not feel safe there after recording a statement against former finance minister
P Chidambaram and his son Karti
.
After Indrani's overdose episode at Byculla jail, she was admitted to JJ hospital on Friday night. On Monday, the Nagpada police visited her in hospital to record her statement, and she gave them a one-page handwritten letter, said sources from the police.
Chidambaram connection
Karti was arrested by the CBI
from Chennai airport on the basis of confessional statements of INX Media Limited directors Indrani and her husband Peter Mukerjea. Peter's statement was recorded by the Enforcement Directorate (ED), which is probing the money laundering angle in the case. Indrani's statment was made before a magistrate for the Central Bureau of Investigation (CBI).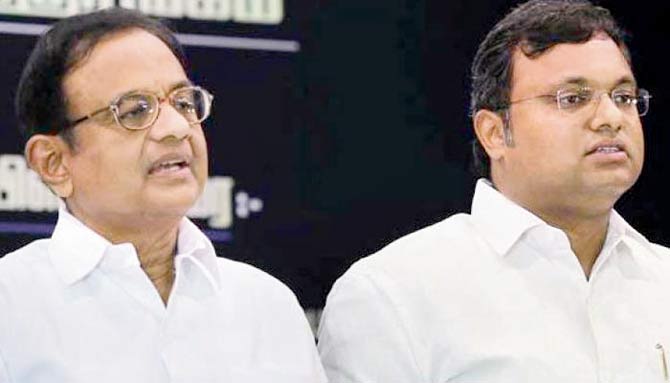 The Mukerjeas alleged that they paid $7 lakh to Karti on the instructions of his father Chidamabaram, as quid pro quo for an FIPB (Foreign Investment Promotion Board) clearance. Both Peter and Indrani had alleged that they met the then finance minister Chidambaram at his North Block office, seeking clearance for foreign investments in their media company after the Income Tax department detected irregularities in these instances in 2007. Chidambaram had then asked them to "help his son's business and make foreign remittances for this purpose," said an official, quoting the Mukerjeas' statements.
The couple also admitted that they subsequently met Karti at a five-star hotel in Delhi, where he allegedly made a demand of $1 million. This was reiterated by Indrani before the magistrate as well, confirming that a payment of $7 lakh was made to the bank accounts of overseas firms linked to Karti.
Daal mein kuch kaala?
In her letter, Indrani also mentioned that on the day of the overdose, she returned from court and had one cup of daal. Later, she took the medicine given to her by jail staff. She added that she could not recall anything that happened after that.
(Except for the headline, this story has not been edited by NDTV staff and is published from a syndicated feed.)
Get Breaking news, live coverage, and Latest News from India and around the world on NDTV.com. Catch all the Live TV action on NDTV 24x7 and NDTV India. Like us on Facebook or follow us on Twitter and Instagram for latest news and live news updates.