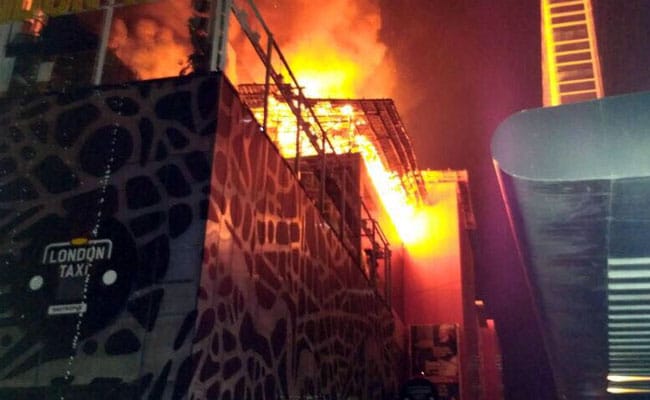 Mumbai:
The Mumbai Police arrested a person on Tuesday evening for helping an accused in the Kamala Mills fire case evade arrest. Vishal Karya, a known face in Mumbai's social circles has been accused of helping Abhijeet Mankar, a partner in "1Above" pub, evade arrest even after a case of culpable homicide not amounting to murder was registered against him and his partners in the business. Abhijeet Mankar's car has been recovered from Vishal Karya, the Mumbai police said. Mr Karya has been photographed with actors, politicians and cricketers in the past.
Last week, Yug Pathak, the son of a retired IPS officer and one of the owners of the Mojo's Bistro pub, was arrested and sent to five-day police custody in connection with the deadly fire at the Kamala Mills compound on December 29, which had claimed 14 lives.
A case has been filed at the NM Joshi Marg Police station against 1Above and Mojo's Bistro -- the pubs located on the rooftop of a building in Kamala Mills Compound. According to a probe by the fire department, the fire started at Mojo's Bistro and spread to 1Above. Three partners of 1Above have been named in the case and they are Kripesh Sanghavi, Jigar Sanghavi and Abhijeet Mankar. A lookout notice has been put out against their names by the Mumbai Police. Last week, three relatives of the Sanghavis were arrested and released on bail for helping them evade arrest for which a case was registered at the Byculla Police Station.
The Mumbai police filed the case of culpable homicide initially against the management of 1Above but later also added the names of the owners of Mojo's Bistro after a fire department report. The report said flying embers from the charcoal used for hookahs touched the curtains at the upscale pub. The restaurant did not have clearance to serve sheesha. While one of the owners of Mojo's Bistro has been arrested, the owners of 1Above are still evading arrest. Both restaurants had illegal structures and flouted fire safety norms, according to the fire department.