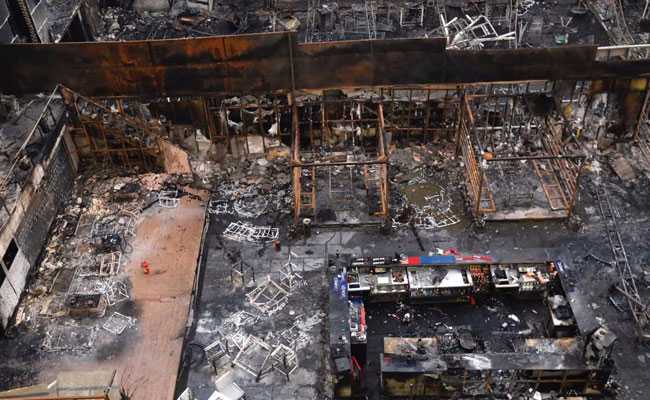 Mumbai:
The Bombay High Court-appointed judicial committee inquiring into the fire at Kamala Mill Compound in Mumbai last year has recommended action against a co-owner of the premises and owners of the two restaurants, blaming them for the incident.
The fire at two rooftop restaurants -- Mojo's Bistro and '1 Above' -- at Kamala Mills Compound in central Mumbai on December 29, 2017 claimed 14 lives.
The three-member committee submitted its report to the high court on Monday. It was made available Wednesday evening. The committee recommended "appropriate punitive action" against co-owner of Kamala Mills Compound Ramesh Gowani and owners of the two restaurants.
Mr Gowani, who holds 95 per cent stake in the Kamala Mills property, permitted the restaurant owners to make unauthorised additions to the structures, it said.
"The owners of both the restaurants committed flagrant violations in converting the entire open terrace into two full-fledged restaurants divided by a partition of highly combustible material and covered by equally inflammable material, such as cotton curtains, plastic covers, etc.
"To make the situation... fatal for the patrons who died due to asphyxia...there was no trained staff or security personnel to guide them in case of emergency," it said.
One of the waiters of 1 Above directed 13 patrons to illegally constructed toilet block which had no exit or ventilation, and as a result all 13 and the waiter himself died of suffocation, the report noted.
"The rear side of the terrace was blocked, and the terrace area was used for stocking inflammable material such as liquor, kerosene and coal. Also, the terrace was used for serving hookah. All of these were in violation of the license terms and the fire norms," the committee said.
Superintendent of State Excise AB Chaksar and Excise Inspector Sandeep More and Vijay Thorat ignored apparent violations of license terms at the two restaurants, it claimed.
To avoid such tragedies in future, better coordination between government departments and implementation of "stricter checks and balances" to ensure there is no violation of construction or safety norms in commercial areas are needed, the committee said.
The three-member committee headed by Justice (retired) AV Savant and including architect Vasant Thakur and former municipal commissioner K Nalinakshan was set up by the high court in April.
The panel was formed by a bench headed by Justice Bhushan Gavai in response to a public interest litigation filed by former Mumbai police commissioner Julio Riberio demanding safety audit of all restaurants and pubs in Mumbai. Gowani and six owners of the two restaurants were arrested by police after the fire.