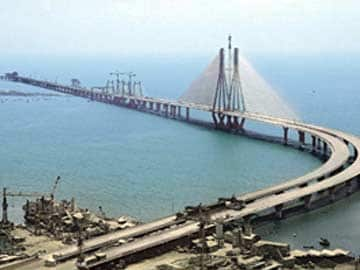 Mumbai:
The Bombay High Court today issued notices to Maharashtra Home department and other authorities asking them to respond to a petition demanding measures to prevent suicides or possible terror attacks at Bandra-Worli Rajiv Gandhi Sea link in the metropolis.
Besides the Home department, notices were also issued to Mumbai Entry Point Infrastructure Developers (MEPID) which collects the toll at the Sea Link and Maharashtra State Road Development Corporation (MSRDC) which commissioned the cable-stayed bridge.
The notices were made returnable after three weeks by a bench headed by Justice P V Hardas which was hearing the PIL filed by former scribe Ketan Tirodkar.
The PIL alleged that MEPID and MSRDC are not looking after the maintenance and security at the 4.8-km long bridge which is vulnerable to terrorist attacks.
According to Tirodkar, so far five cases of suicide by jumping from the bridge have been reported in the recent times. However, there are only six CCTV cameras whereas the whole length requires 80 CCTV cameras, the PIL said.
It also wanted deployment of more, better-trained guards. Currently, only six to eight guards are posted on the bridge. The barriers and railing are around 4 ft high which is not sufficient to prevent jumping off the bridge, the PIL submitted.
The toll collected on the Sea Link was Rs 77.85 crore in 2012-13 and Rs 53.43 crore up to January 2014. A small portion of it is required for enhancing the security, the PIL said.