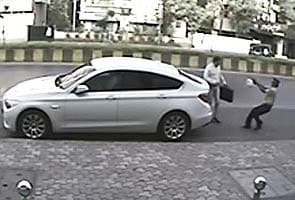 Navi Mumbai:
A builder in Mumbai was shot dead in front of his office on Saturday morning in the satellite town of Navi Mumbai. The entire murder was caught on the CCTV camera installed at the entrance of the office.
At around 8 am today, as soon as Sunil Kumar Loharia, owner of SK Brothers, stepped out of his white BMW in front of his office in Vashi, a man in the uniform of a security guard shot him six times from a point-blank range. Another man then attacked Mr Loharia with a chopper when he fell on the ground.
Officials from Loharia's office rushed out to help. One of the men was caught by the locals when they tried to escape.
Mr Loharia, 52, was rushed to the Fortis Hospital where he was declared dead on arrival.