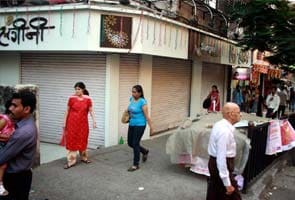 Mumbai:
As Shiv Sena supremo Bal Thackeray's body was consigned to flames at Shivaji Park in central Mumbai on Sunday, the city wore a deserted look with most public transport staying off the roads. The situation, though, is likely to change today as taxis and autorickshaws will ply normally.
Earlier on Sunday, the Taxi Union had declared that cabs will run only if there is calm in the city today. But they changed their decision soon after. Meanwhile, buses run by BEST (Brihanmumbai Electric Supply and Transport) will maintain their regular schedule today; the transport service had arranged for extra buses yesterday to facilitate for people to travel to Shivaji Park to pay their last respects to Mr Thackeray. Trains too will run normally.
Most schools in the city, though, are likely to remain closed. Most others shops and establishments are also likely to function normally today.
Shiv Sena has already denied having called a shutdown. "The shutdown call is purely voluntary. We have not called for any kind of shutdown," party spokesperson Anil Parab told IANS.
Earlier on Sunday, as people thronged to catch a glimpse of the Sena patriarch and pay homage to him, shops, restaurants, hotels, theatres, malls and other commercial establishments remained shut while private vehicles, taxis and autorickshaws remained off the roads. Medical shops in the city as well as in neighbouring Thane were also closed.
Citizens also found it difficult to get milk and vegetables. "We did not get milk this morning and even the vegetable market is shut. I have never come across such silence in the city in my life ever," said Rama Arolla (50), a housewife from BDD chawl in Worli area.
About 20,000 police personnel kept a strict vigil in the metropolis to maintain law and order.
(With inputs from Agencies)