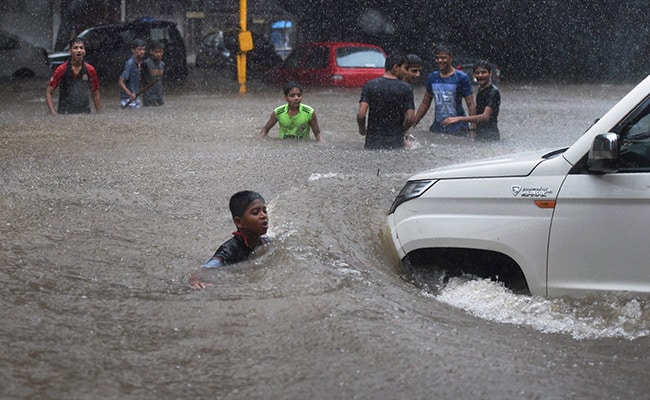 Mumbai:
The Santa Cruz observatory of the India Meteorological Department (IMD) in Mumbai registered 331.4 mm rainfall on Tuesday, the heaviest since the July 26, 2005 record of 944 mm, which had caused the worst havoc in decades in the city.
However, there was a respite on Wednesday as the metropolis did not witness much rainfall.
Tuesday's "largely excess" rainfall recorded by the Santa Cruz observatory was also the highest rainfall on an August day since 1997. It was second only to the 346.2 mm of rainfall registered on August 23, 1997, the data showed. The Colaba observatory of the IMD registered 110 mm of rainfall on Tuesday, it said.
"The precipitation measured between 8.30 am of August 29 and 8.30 am of August 30 revealed that the Santa Cruz weather station received 331.4 mm rainfall, while the Colaba observatory received 110 mm rainfall during the same period," the IMD said.
The neighbouring Thane city received 247 mm rainfall, while the downpour measured in Palghar was 280 mm, it added. On Tuesday afternoon, the IMD had issued a forecast that the Mumbai region would get more than 250 mm rainfall.
An IMD official had said, "The depression over south Gujarat and Madhya Pradesh had brought more showers, but it intensified as it received more moisture from the Arabian Sea."
The IMD had also predicted heavy showers at a few places in the Mumbai region on Wednesday. However, the city witnessed almost no rain during the day.
The rainfall recorded on Wednesday was in single digits. While the Colaba observatory recorded only 6.4 mm rainfall between 8.30 am and 5.30 pm, the Santa Cruz unit recorded 7.6 mm rainfall during the period.
The system shifted further from Madhya Pradesh towards the west coast of the country and brought relief to the people in the Mumbai region, the IMD officials said. The weather system, which was near Mumbai, had caused a downpour in the megapolis, Mumbai suburban, Thane and Palghar districts on Tuesday.
Scores of daily commuters in the Mumbai region were affected due to the heavy showers.
The IMD forecast had stated that the intensity of the rains would be on the lower side and a few areas might get heavy showers. Torrential rain, accompanied by strong winds, pummelled Mumbai on Tuesday, disrupting rail, road and air services, uprooting trees, swamping houses and bringing the megapolis and its satellite towns to their knees.
Many people had to spend the night at their respective workplaces as the roads and railway tracks were waterlogged.