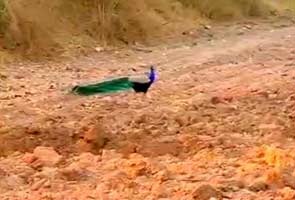 Mumbai:
As Maharashtra faces its worst drought since 1972, calls for a 'dry holi' are growing. A fervent appeal came today from none other than superstar Amitabh Bachchan. The actor tweeted, "Water shortage in Maharashtra...And it's only March. What will happen in Summer? Save Water! Play a dry Holi!!"
Apart from the actor, politicians and citizens are also trying to create more awareness. Even businesses are promoting the idea of conserving water. Tohfa India, an online portal selling Holi merchandise has pulled off water consuming products from its shelves. Sudhir Mishra from Tohfa India says, "We have launched products that use a minimal amount of water and we are getting good support from customers. They are promoting this cause and they are equally worried and thoughtful about supporting people in Maharashtra through minimum use of water."
Also joining the effort are students from Mumbai University by performing street plays and taking the message of water conservation during the festival of colours from door to door. Manali Bhandarkar, a student of DG Ruparel College, who is a part of the campaign says, "It was an awareness campaign through which we wanted to give out the message that since there is a drought in Maharashtra people should less water or avoid using water this Holi."
The government too has urged people to not waste water this Holi. Splurges like using 50,000 litres for Holi celebrations in Nagpur by self-proclaimed godman Asaram Bapu in Nagpur were criticised and the state banned him from such celebrations. With many in Maharashtra having no water to drink, a "dry Holi' would be the most sensible way to celebrate the festival.