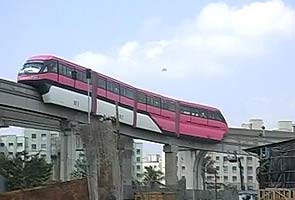 Mumbai:
Around 80 journalists, camera-persons and bureaucrats took a trip on Mumbai's latest public transport system, the monorail. A pink gleaming new imported rake carried the passengers from Wadala to Chembur in 15 minutes, something that was unthinkable till now.
With this, the Mumbai Monorail is one step closer to its inauguration. After countless promises and delay, the first phase of from Wadala to Chembur is expected to be operational from late April this year. According to the Mumbai Metropolitan Region Development Authority (MMRDA), the delays in the project were caused due to faulty mapping of underground utilities.
The Mumbai Monorail will augment local railway services and is expected to offer faster connectivity and link up the existing Central, Western and Harbour lines. The project will connect Jacob's Circle in town to suburban Chembur, a distance of over 20 kilometres.
This infrastructure has been implemented to improve and refurbish the city's mass rapid transport systems and provide better connectivity to the city's eastern fringes.
India's first monorail will be the second longest monorail system in the world after Osaka. The ultramodern sleek trains, which can run up to a maximum speed of 81 kilometre per hour, will be running at an average speed of 31 kilometre per hour. Each train will have four coaches that can carry over five hundred passengers. According to the MMRDA, provisions have been made so that women can travel comfortably.
The monorail is being built at a cost of Rs. 2700 crore. While Phase I of the Monorail will connect the suburbs of Wadala and Chembur, Phase II will connect Jacob's Circle in south Mumbai to Wadala.
For the Jacob's Circle to Wadala link, it will take another year after Phase I operations begin. Once the service starts, trains will run at a frequency of four and a half minutes from Jacobs Circle to Wadala and a frequency of nine minutes between Wadala and Chembur.
Six rakes will be pressed into service for Phase I. To address over-crowding, monorail authorities have two solutions. One is to increase the number of coaches on each rake and the other is to increase the frequency of trains.
The Mumbai Monorail has been commissioned under the Indian Tramways Act. Once completed, it will ease road traffic along its route. The monorail fares will be around one and a half times the amount it takes to travel by bus. But whether more monorail projects will be commissioned in the future will be decided only after this one is up and running.