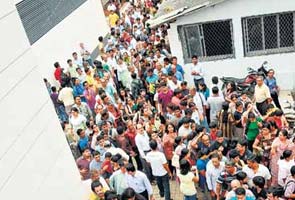 Mumbai:
The early bird catches the worm. An overwhelming 7,000 people lined up as early as 3 am yesterday, in order to buy membership forms that would give them access to dips in the newly renovated, state-of-the-art Mahatma Gandhi Smarak Municipal Swimming Pool complex in Dadar.
The unprecedented turnout baffled officials. Of the 10,000 available forms, 6,000 have already been sold.
The serpentine queue began in front of the pool gate, and stretched on as far as the eye could see.
The 6,000 water babies who managed to procure membership forms have thus staked their claim to use of the 10-lane Olympic-size swimming pool, and the neighbouring cluster of three more pools -- one being a 16-ft deep pool built exclusively for diving, the second being a recreational pool, and the third a shallow one for kids to dip and wade in.
The pool complex is also equipped with a spectator's gallery which has a seating capacity of 600. The pools have been under renovation for the past two years.
This means that in the next four days of form-selling process, only 4,000 more forms can be sold. Deputy Municipal Commissioner (Gardens and Security) S Karavande said, "Keeping the capacity of the pool in mind, we had decided to give out 10,000 new memberships. 6,000 forms have already been sold. We expect all the forms to be sold off on the second day itself. We cannot release more forms."