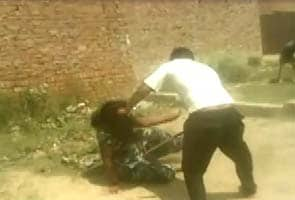 Ludhiana:
A woman from Ludhiana in Punjab had to organize footage of herself being struck several times with lathis or sticks by a group of four men so that the police would register a case against them.
The attack on her, which took place earlier this month, was filmed by a man using a cellphone. It's not clear why he did not intervene.
The woman spent days trying to get a copy and then furnished it to the police and local media.
She says she asked a male neighbour to repay a loan. In response, he gathered his friends and they began striking her.
The woman says that though she informed the police of the assault, no case was registered till Tuesday, when she circulated the MMS of her attack. Three people have been arrested since and the police officer who refused to accept her complaint has been suspended.
There were reportedly several witnesses to the assault, but nobody tried to help her, the woman said.
Earlier this week, shocking footage highlighted the callous apathy of Jaipur. A stream of cars ignored the desperate pleas for help of a man holding on to his young son, his wife and daughter lying fatally injured on the ground next to him after their motorcycle collided with a truck.
Last month , the Supreme Court asked the Punjab government to explain why four policemen battered a woman on a freeway at Tarn Taran near Amritsar. The assault was recorded on a mobile phone. The court had expressed its concern about public indifference, since nobody tried to protect the woman. The police claimed that the woman had tried to prevent the arrest of her drunk father, but admitted that the attack on her was grossly incorrect.