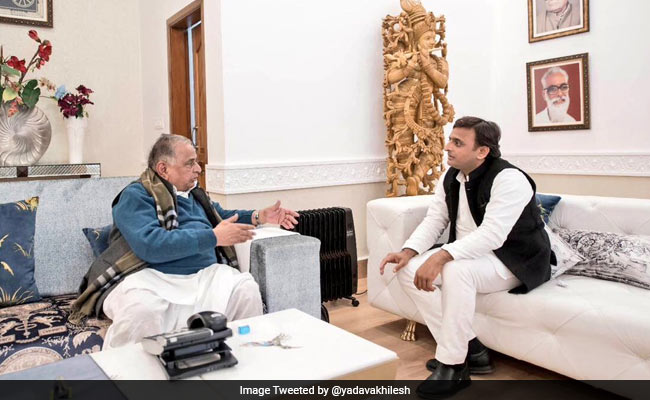 Lucknow:
Weeks after vacating official bungalows on the posh Vikramaditya Marg in Lucknow, Samajwadi Party chief Akhilesh Yadav and his father Mulayam Singh Yadav have sought approval from the Lucknow Development Authority for construction of a guest house and library in the same area.

A map was submitted by Akhilesh Yadav on June 28 for plot number 1 A Vikramaditya Marg to seek approval for a building in the name of 'Hibiscus Heritage', LDA officials said.

On the same Vikramaditya Marg, Mulayam Singh Yadav has sought approval for building a library on a separate plot, they said.

Both Mulayam and Akhilesh Yadav vacated their official bungalows on Vikrmaditya Marg last month following Supreme Court orders.

There are reports that Akhilesh Yadav is going to construct a hotel on his land. However, the Samajwadi Party leader's close associate and party MLC Anand Bhadauria said a guest house will be built on the spot.

"The land is earmarked as institutional. A guest house will come up and not a hotel as being reported," he insisted.


As both the plots lie in high-security zones no objection certificates will have to be taken from a number of departments before approval of maps.
Executive engineers of LDA have referred the matter to chief architect of Lucknow Municipal Corporation. A No Objection Certificate has also been sought from Director General (Security), Estate Officer of UP government and general manager of Lucknow Jal Sansthan and Nazul Land Officer of the Lucknow Development Authority.
The land where the proposed guest house is to be constructed was jointly purchased by Akhilesh Yadav and his wife Dimple Yadav for Rs 39 lakh in 2005. The property is now worth crores of rupees.
Lucknow Development Authority sources said the Samajwadi Party chief has sought approval for a two-storey building as high rises are not allowed in the high-security zone.