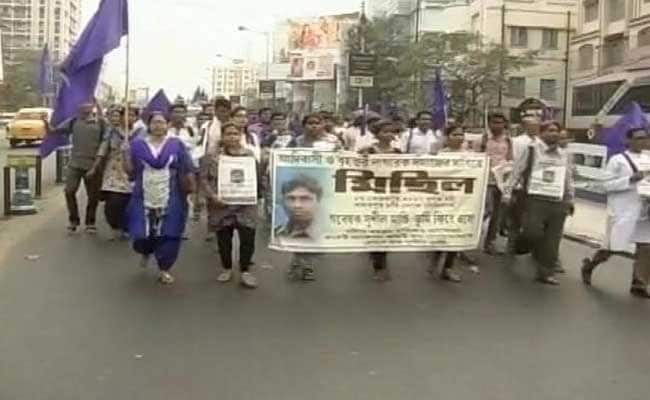 Kolkata:
The memory of Rohith Vemula is casting a shadow over Jadavpur University in Kolkata. Since February 2, a Dalit student is missing after he was accused by a fellow student on social media of molesting her. A police complaint has been filed but 16 days later, there has been little progress in the case and protesters have taken to the streets. As the mystery of his disappearance deepens, political storm clouds are gathering over the issue.
Not just students but a Dalit group too is demanding he be traced immediately. So is an Islamic students' body that has combined that demand with the case of the missing JNU student Najeeb Ahmed.
Shouting slogans of "jai bhim" and carrying the blue flags, members of the Dalit Bahujan Solidarity Movement joined a rally by Jadavpur University students on Saturday from the campus to the Golpark area.
"After the social media post, Sushil was very depressed. He said, if I was not a Santhal, if I had Rs 30-40 lakh in my bank, I would not be treated like this," said Jubi Saha, Jadavpur University student and a Radical union member.
Also agitated, Mr Saradindu Uddipan, head of the Dalit Bahujan Solidarity Movement, said, "Sushil is part of the Dalit Bahujan society. He was taking forward our dreams. He is now lost."
The Students Islamic Organisation or SIO linked to Jamaat-e-Islami Hind claimed both Susil Mandi and JNU's missing Najeeb Ahmed are "victims of a discriminatory system".
SIO president Mahas Nala, said, "Minorities of the nation face lot of problems in higher education institutions." S Masum, member, SIO, said, "For Hyderabad University, Mamata Banerjee was very vocal. But she has not said a word on Najeeb or on the Jadavpur case. This is unfortunate."