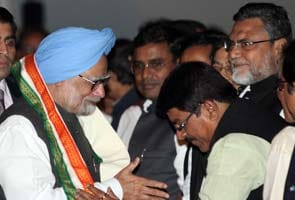 Kolkata:
President Pranab Mukherjee and Prime Minister Manmohan Singh arrived in Kolkata on Wednesday evening to attend the inaugural session of the Indian Science Congress beginning in Kolkata on Thursday.
Mr Mukherjee landed at the NSC Bose International Airport at 8 pm and was driven to the Raj Bhavan while the Prime Minister reached an hour earlier. He would stay the night at a hotel, airport sources said.
Governor MK Narayanan, Finance Minister Amit Mitra and Panchayat and Rural Development and PHE Minister Subrata Mukherjee welcomed them at the airport on behalf of the state government.
The President will inaugurate the five-day Science Congress and the Prime Minister will announce the country's fourth science and technology policy at the meet.
Meanwhile, when the Prime Minister was leaving the airport, a taxi entered the convoy but its driver left it after a few seconds on understanding the situation, police said.
The taxi driver was questioned and let off, they added.