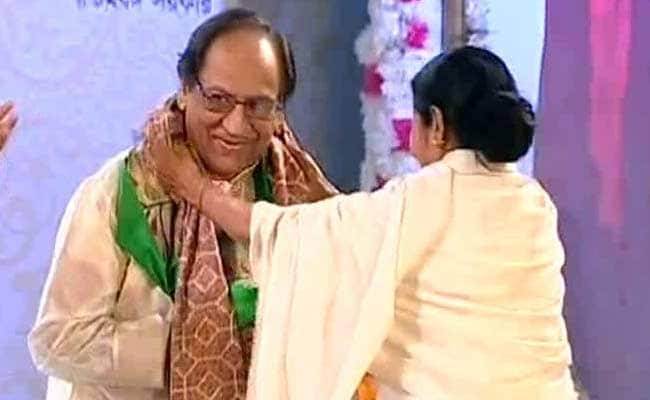 Kolkata:
Pakistani ghazal maestro Ghulam Ali, who has over the years enthralled millions across the world with his baritone voice, on Tuesday expressed gratitude and elation to be able to perform in Kolkata, following the cancellation of his concert in Mumbai.
"I am very happy today. I have been coming to Kolkata for 30-35 years. But this time it feels like I have come back after 50 years. I was so sad and today my sadness ends," Ghulam Ali said at the start of the concert at the Netaji Indoor Stadium.
Performing with his son Aamir, Ghulam Ali hailed West Bengal Chief Minister Mamata Banerjee as a form of Saraswati, the Hindu goddess of wisdom and music.
"I am grateful to her. She has done us a favour in the form of Saraswati," Ghulam Ali said with a a smile.
Ms Banerjee reinforced her views on universal brotherhood and requested the 75-year-old singer to visit the city again. She welcomed him with with a shawl and scarf.
The maestro had first performed in Kolkata in 1981.
"Gana wana mujhe nahi aata (I don't know how to sing). I only know how to listen," he said, reminiscing how he was tutored by the legendary Bade Ghulam Ali and his three brothers.
"I used to be after them (to learn)," quipped the singer, whose famous ghazal renditions are "Chupke Chupke Raat Din", "Kal Chaudhvin Ki Raat Thi", "Hungama Hai Kyon Barpa", "Kiya Hai Pyar Jise" and many others.
Attired in embroidered white kurta-pajamas and a shawl, Mr Ali, complimented the audience for their patience and silence as they immersed themselves in his shayaris and ghazals including the famed "Dil Mein Ek Lehar Si Uthi Hai Abhi".
Mamata Banerjee was seen absorbed in the music with closed eyes as Mr Ali entranced a packed hall with his expertise in vibrations. The ustad's arresting style conveyed a range of emotions, even as he rendered the same couplet more than once.
After cancellation of his concert in Mumbai due to protests by the Shiv Sena, Ghulam Ali in November had expressed disappointment.
Mamata Banerjee offered Kolkata as a venue following the cancellation of the Mumbai concert in October.