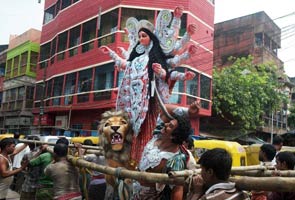 Kolkata:
Kolkata Police will for the first time use an air surveillance device in the city to tighten security and better crowd management during Durga Puja.
"We are using this air surveillance device during the pujas for the first time for better crowd management," Joint Commissioner of Police (HQ) Rajeev Mishra said.
The device would fly on the city skies and send images of the crowd to the police control. It would be able to capture the image of any object within the radius of five km, Mishra said.
"As we have only one such device, we'll use it as per need," he said.