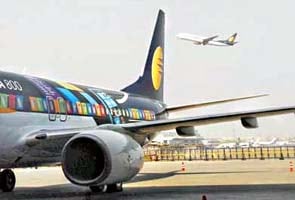 Kolkata:
A Jet Airways aircraft with 135 passengers on board made an emergency landing at the NSC Bose International airport in Kolkata on Monday night after it developed a technical snag in the mid-air.
Airport sources said that around 10:12 pm the pilot of flight number 517, coming from Mumbai, sought the ATC's permission for emergency landing citing some technical problem in tyre.
With all standard emergency measures in place, the plane safely landed at 10:22 pm without any hitches and the air passengers and crew of the Mumbai-Kolkata flight disembarked.
The aircraft is now being checked by experts, who suspected that there was some hydraulic pressure problem in its tyre.