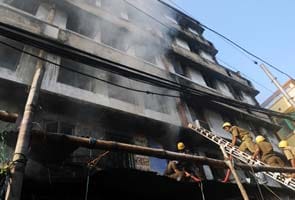 Kolkata:
Kolkata woke up to another horrific fire this morning - this time in a five-storey market complex on central Kolkata's congested Surya Sen Street. 19 people died in the fire; the victims, mostly labourers working in the market, were sleeping when the blaze broke.
17 people were rescued and taken to hospital. Many of them are still in critical condition.
The building, called Surya Sen market, houses shops and several plastic and paper godowns that also store chemicals.
The exact cause of the fire is not known yet but initial reports suggest there might have been a short circuit on the first floor, in an eatery. The very old building has tangles of electricity wires hanging outside and dark, cramped corridors inside.
Eyewitnesses say the fire brigade arrived late, they came without gas cutters and gas masks and therefore rescue was seriously hampered and delayed.
"They were so late with rescue operation that more people died, people who could have been saved," said Ajay Basak, an eyewitness.
But the minister for disaster management pointed his finger elsewhere.
"It is an illegal unauthorised market. It came up during the regime of the Left Front. In the last 34 years such buildings have come up in large numbers," said Javed Khan, Disaster Management Minister.
The opposition is not amused. "There has been a breakdown of the administrative machinery," said CPM's Sitaram Yechury.
The Congress, meanwhile, demanded a judicial probe.
Chief Minister Mamata Banerjee surveyed the site of the disaster and also ordered a police inquiry that will report back to her in three days. Ms Banerjee said a night shelter would be built for people to stay overnight pointing out that living and cooking in a market full of inflammable goods was dangerous. "I have seen the building, it is a hazard. We have to come up with alternatives. The government will be strict about safety norms. We are not in favour of pulling down buildings or cancelling licences," she said.