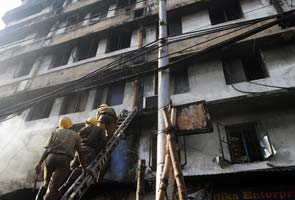 Kolkata:
Seventeen people have died in a fire that broke out early this morning in a six-storey building on central Kolkata's congested Surya Sen Street. Seventeen people have been rescued and taken to hospital. Many of them are in critical condition and there are fears that the toll could rise. (
See more pictures here
) | (
Watch Video)


The building, called Surya Sen market, houses shops and several plastic and paper godowns that also store chemicals and most of the people who died were shop owners and workers who stayed in the market overnight.
The exact cause of the fire is not known yet but initial reports suggest there might have been a short circuit on the first floor, in an eatery. The very old building has tangles of electricity wires hanging outside and dark, cramped corridors inside.
Chief Minister Mamata Banerjee visited the site a short while ago and has ordered a police inquiry in three days. Ms Banerjee said a night shelter would be built for people to stay overnight pointing out that living and cooking in a market full of inflammable goods was dangerous. "I have seen the building, it is a hazard. We have to come up with alternatives. The government will be strict about safety norms. We are not in favour of pulling down buildings or cancelling licences," she said.
Just before the CM arrived, many people in blue hats with "rescue" written on them appeared. They were not there during the many hours that 20 fire tenders fought the fire, which broke out at about 3.50 this morning.
Fire-fighting and rescue operations were hampered by the heavy smoke in the narrow lanes leading to the building on fire. Also, there was only one exit in the building, which was reportedly blocked for some time due to the fire.
West Bengal's Fire Minister Javed Khan said it was an unauthorised building, and that Kolkata alone had about eight lakh of those making a crackdown very difficult. "We have filed hundreds of FIRs on such unauthorized and illegal markets and godowns, there is no laxity on part of the government," Mr Khan said, putting the blame squarely on the previous Left regime of 34 years for allowing unauthorised construction.
Kolkata has witnessed several major fires in the last two years. In December 2011, 94 patients and staffers died in a fire at the AMRI (Advanced Medicare Research Institute) Hospital.
Ms Banerjee also said that after the AMRI fire incident, the government had requested all buildings to follow safety norms. But, she added, not many buildings obeyed the instructions.