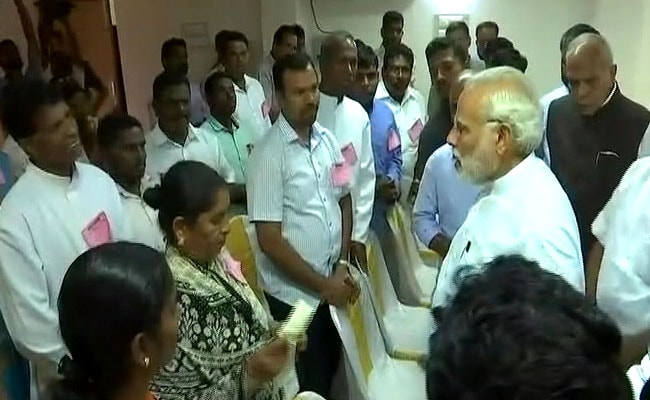 THIRUVANANTHAPURAM:
On a visit to reach out to people in Kerala, Tamil Nadu and Lakshadweep, Prime Minister Narendra Modi today vowed to spare no efforts to trace the fishermen who were caught unaware by last month's Cyclone Ockhi and were still missing.
"This is a sad moment for you. The central government is with you," PM Modi told families of the fishermen in Kerala's Kanyakumari.
PM Modi spent the day reviewing the damage due to the cyclone and the status of the relief operations at Kavaratti, Kanyakumari, and Thiruvananthapuram with officials of the two states and Lakshadweep.
88 people had died in the cyclone including 70 in Kerala and 18 in Tamil Nadu. Many fishermen are still reported missing in the sea.
He also met Tamil Nadu Chief Minister K Palaniswami on the post-Ockhi situation here, during which Tamil Nadu sought a Rs. 9,300-crore package, including Rs. 4,047 crore for the districts hit by the Northeast Monsoon.
"This is not the time for a lecture and I assure you that we will do everything to help you and that's why I myself have come. We are all with you and will do everything. With Christmas round the corner, we wish all the missing return back," he said in his brief remarks.
"We will leave no stone unturned in the rescue and relief operations," the Prime Minister said.
According to the central government around 12,000 people have been evacuated and rescued nearly 900 people in the cyclone-affected areas.
Congress president Rahul Gandhi had last week headed to Kerala to meet fishing community after campaigning in Gujarat ended and later asked for a special package for cyclone-hit fishermen of Tamil Nadu and Kerala.
Today, Tamil Nadu Chief Minister E Palaniswamy sought a Rs. 9,300-crore package, including Rs. 4,047 crore for the districts hit by the northeast monsoon, a move seen to blunt attacks from the opposition DMK's MK Stalin.
It has been 21 days since the disastrous cyclone ruined normal life in Kanyakumari district and killed fishermen. "The Chief Minister has failed to seek central funds for relief and rehabilitation," Mr Stalin said.