Thiruvananthapuram:
In embarrassment for the Kerala police, CCTV footage released by the BJP in Kerala on Friday morning allegedly showed CPM workers - a councillor and a student leader - vandalising BJP state office in Thiruvananthapuram, boldly and unmasked, in the presence of the police.
Shockingly, while most policemen stood as mute spectators, only one policeman showed the courage to stop the attackers and chase them - he was kicked and beaten by allegedly pro-CPM attackers.
"Two policemen have been suspended for inaction. We have set up police teams to arrest more accused. Unbailable cases have been registered against pro-CPM and RSS activists. The trigger was a minor incident but the violence escalated. This cannot be done without help from party leaders and we will arrest them too", Manoj Abraham, top cop in Thiruvananthapuram, said.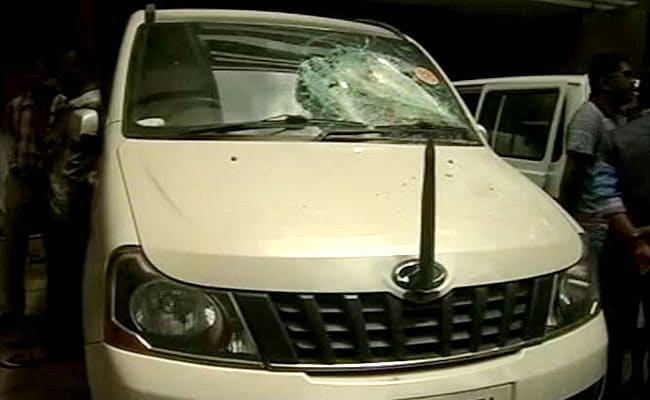 Six CPM activists have been arrested by the police for the attack on the BJP state office. Six RSS activists, caught with weapons, were arrested for the attack on Kerala CPM state secretary Kodiyeri Balakrishnan's son's home in the state capital.
But with the history of bloody violence in Kannur, the BJP has alleged a state conspiracy by the ruling CPM.
"They knew our President Kummanam Rajasekharan was resting in the office. The attack was against him. Police didn't do anything, but just stood there silently. This is a conspiracy of CPM led state government," said the BJP's JR Padmakumar.
The CPM has denied these allegations. State secretary Kodiyeri Balakrishnan said, "We condemn the attack on BJP state office. But does BJP have courage to condemn attack on my house? We will take disciplinary action against them, if they are found guilty. But does BJP have courage to take action against their men?"
The CPM has alleged that BJP is unleashing violence to save its face from the allegations of corruption against the party - which included sacking of a party man who accepted bribe, assuring medical council accreditation for a private hospital.
Get Breaking news, live coverage, and Latest News from India and around the world on NDTV.com. Catch all the Live TV action on NDTV 24x7 and NDTV India. Like us on Facebook or follow us on Twitter and Instagram for latest news and live news updates.