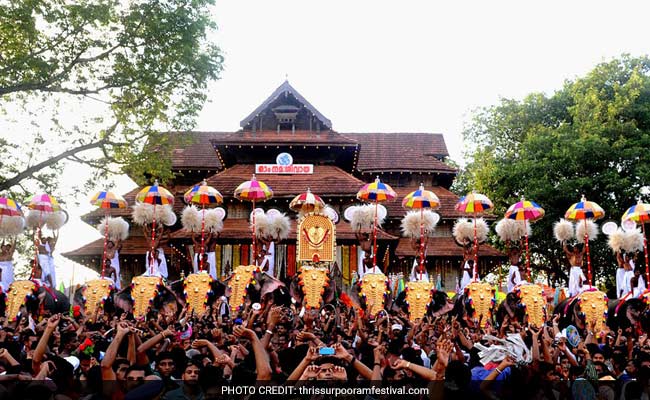 Highlights
86 and 50 year old elephants made to stand near fireworks, say activist
74 elephants, many with wounds, paraded for 36 hours: Activist
The group also alleged violations took place with state govt's support
Thiruvananthapuram:
An animal rights campaigner has written to the Chief Controller of Explosives, Nagpur, and the Director of Project Elephant alleging violations of Wildlife Protection Act and Sound Pollution Regulation Rules in the recently concluded Thrissur Pooram festival.
Centuries-old Thrissur Pooram festival concluded on Tuesday with thousands witnessing the parade of richly-caparisoned elephants and performance by over 500 percussionists amid tight security.
Thrissur-based Heritage Animal Task Force wrote in a letter that two elephants, aged 86 and 50 years, were "forced" to stand near the site where thousands of kg of high-decibel crackers had been burst as part of fireworks display on the concluding day of the Pooram festivities.
"Compelling elephants to stand amidst fireworks is a violation of the Prevention of Cruelty to Animals Act 1960, Wildlife Protection Act 1972 and Sound Pollution Regulation Rules 2004," HATF secretary VK Venkatachalam said.
"All these violations took place with direct support of Kerala government," he alleged in the letter, released to media.
The letter alleged that the organisers of the Pooram had also paraded 74 elephants for 36 hours on April 17 and 18 as part of the festival, who had wounds all over their bodies due to torture for compelling the jumbo to stand and walk.
These elephants had no opportunity to drink water or take food for 36 hours, it said.
"This type of organised crime against elephants was a violation of Supreme Court August 18, 2015 order which specifically authorise the Kerala Forest Department to arrest all the persons who are party to torture any elephant as part of any elephant parade," the letter said.
The order also specifically authorises the department to seize all the elephants, being paraded without any valid ownership certificate duly issued by Kerala Chief Wildlife Warden during 2003 before the expiry of 18th October.
All the 74 elephants do not have any valid ownership certificate, the letter said, adding, that the three-layered structure of the western 'gopuram' (tower) of Vadakkumnathan Temple, in front of which Pooram was performed, was also destroyed in the event.