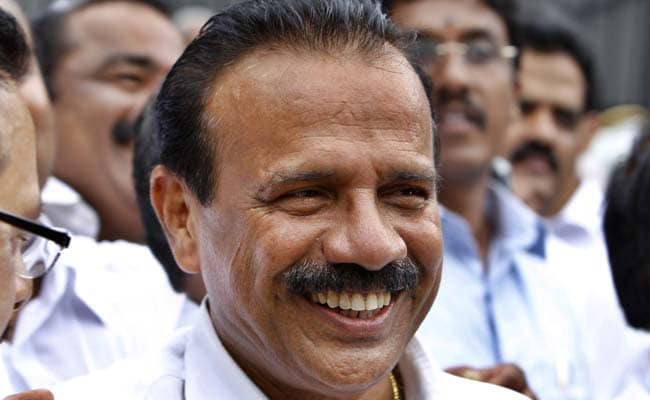 Thiruvnanthapuram:
Expressing confidence that Pradhan Mantri MUDRA Yojana would rejuvenate small and medium scale units in the country, Union Minister for Law DV Sadananda Gowda today said a total of Rs 21,586 crore has been disbursed under it so far benefiting over 33 lakh people.
Addressing a state level convention of BJP leaders in Thiruvnanthapuram, he said major significance of the scheme was one could avail a loan upto Rs 10 lakh without collateral security.
"A total of Rs 21,586 crore has been disbursed under the yojana so far benefiting 33.31 lakh people," the Minister said.
"Reserve Bank of India had issued necessary circular that no collateral security should be insisted for loans up to Rs 10 lakh under MUDRA" (Micro Units Development and Refinance Agency) Yojana, launched in April last, he said.
"One of the main aims of the yojana was to check exploitation of small entrepreneurs in the hands of private money lenders who charged high rate of interest for loans," he said.
MUDRA will instill a new confidence in small entrepreneurs and the country is ready to support them in their efforts in contributing to nation's economy, he said.
He dismissed the notion that loans extended to micro units would not be repaid and said as per statistics more than 75 per cent of loans disbursed in this sector have been paid back.
There are also provisions to extend special benefits to people belonging to scheduled castes and scheduled tribes, youths and women, he said.
The convention was held to chalk out party strategy to face the coming local bodies polls and Mr Gowda asked party cadres to take Prime Minister Narendra Modi's flagship programmes to the people.
He said the coming civic bodies polls in the state would be major political turn around for the party that would also reflect in the assembly polls next year.
Though vote share of BJP in Kerala had increased in recent years, the party had failed to win a seat to Assembly and Parliament from the state, dominated by the bi-polar politics of ruling UDF led by Congress and CPI-M led LDF Opposition.