Thiruvananthapuram:
Top executives in diving gear, holding placards around a specially-designed conference table six metres deep in the Arabian Sea, held a meeting on the outskirts of Kerala's capital, Thiruvananthapuram.
In a rare underwater meeting, the corporate heads aimed to create awareness about marine pollution.
Hema Menon of UST Global, who picked up a few plastic wrappers while coming out of the sea, said, "These wrappers and plastics around should not be inside the sea. But it's all over and has to stop."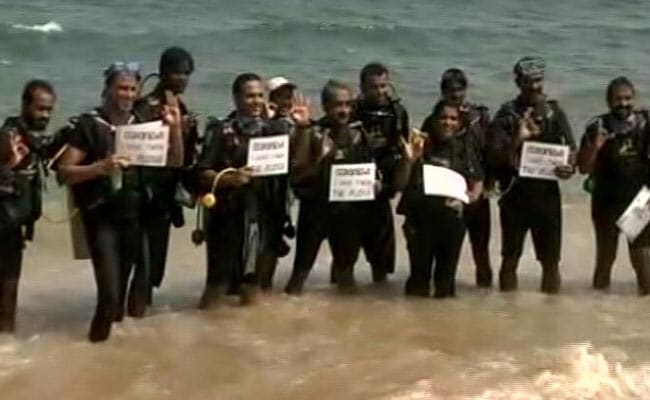 "Just go into the sea and you can make out how the corals are bleaching. Something like Swachh Bharat Mission has to be included for our water bodies too," said Dhinesh P Thambi, Vice President of TCS.
Together the group took a pledge to work towards creating awareness on marine pollution.
Responding to the pledge, Raja Gopal Iyer, CEO of Uday Samudra Leisure Beach Hotel, said, all hotels from south to north Kerala, by the beaches, will unite for awareness campaigns on World Oceans Day on June 8.
This event comes just days after Helmholtz Centre For Polar and Marine Research in Germany, while mapping marine pollution around the world, categorised Kerala, Mumbai and Andaman and Nicobar Islands among the worst in the world when it comes to concentration of micro plastics in their water bodies; even affecting the food chain.
The event was organsied by Bond Ocean Safari, a water sports company.