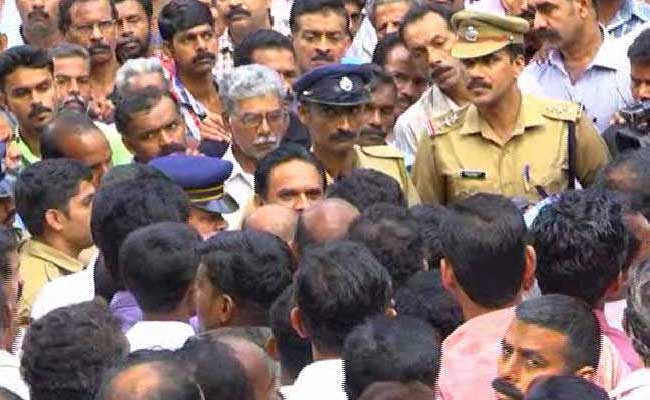 Kozhikode, Kerala:
A 56-year-old Kerala farmer has committed suicide in a village near Kozhikode after revenue officials refused to accept his land tax. The government has ordered a probe into the incident. KP Joy hanged himself to death at the Chembanodu village revenue office after the officials refused to accept his payments despite several attempts.
Mr Joy was found hanging late on Wednesday night at the government office where he and his family have been battling revenue officials for the past two years.
Following a huge public outcry over the incident, village revenue assistant Sirish was suspended on Thursday for dereliction of duty.
State Revenue Minister E Chandrasekheran on Thursday said the incident was most unfortunate.
"The district collector has been asked to find out what happened and we will ensure that all steps are taken against erring officials at the village office," Chandrasekheran told the media.
Revenue officials from various places have been reported to have declined to accept land tax from farmers, citing various technical issues.
State Power Minister MM Mani, who arrived at the residence of Joy on Thursday, said that he has spoken to the district collector. Mani assured justice to Joy's family.
"The state cabinet will take a compassionate approach in this case and will do the needful," Mani told the media.
According to locals, Mr Joy and his family had some time backstaged a one-day protest before the village office when the revenue officials failed to collect his land tax. Following that protest, the authorities accepted the land tax.
However, in 2017 again Joy was treated roughly by the officials. This, tghe locals said, forced him to write a letter to the officials that he would have no other option but to commit suicide if the authorities did not accept his land tax.
Village Council chief Shiji said the state authorities were requested to extend a helping hand to the family. "We requested them to provide a state government job to one member of the deceased's family."
Mr Shiji also said that it was understood that Mr Joy had taken a loan of Rs 10 lakh.
Kozhikode District Collector UV Jose who arrived to pacify the furious locals assured action against the erring officials.
Mr Jose said he would see to it that Joy's land tax was accepted on Thursday, and that he would recommend write-off of Mr Joy's loan and a state government job to one of his family members.
Mr Joy is survived by his wife and three daughters. While two of his daughters were married, the third is a student.