Bengaluru:
Wearing helmets when riding two-wheelers should come as an elementary safety measure but in a city like Bengaluru there are many who do not.
For many people in Karnataka a new law making it compulsory for a pillion rider to also wear a helmet is an utter annoyance.
"I don't find it very necessary, because it is very hard to carry three helmets. And ladies will feel uncomfortable wearing it. And kids, it is very hard for them to carry it," said a commuter Rahil Khan, riding along with his wife and child.
Another rider, Purushottam, agreed. "Yes, I am against it. If someone is waiting for a drop, they can't also bring the helmet, right?"
Until now, laws made it mandatory only for riders in urban areas to wear helmets. Police say enforcement was difficult in rural areas.
Dr M A Saleem, Additional Commissioner for Traffic told NDTV, "In Karnataka it was compulsory only for the rider and that too only for six cities - not in rural and rest of Karnataka state."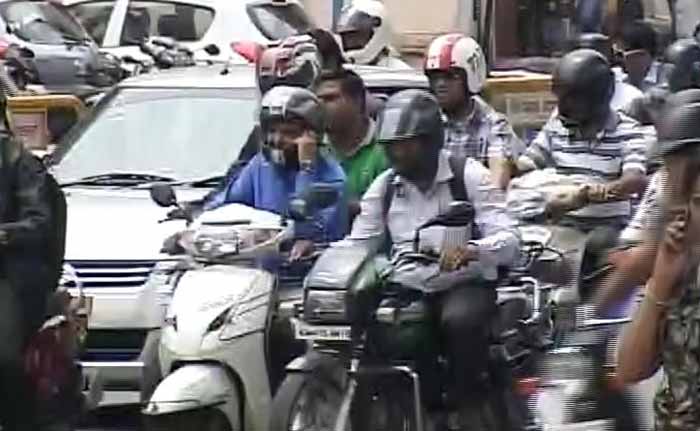 "Exemption was given to almost everybody. But now according to directions of honourable Supreme Court, the transport department has issued a notification making it compulsory - for both rider as well as pillion rider," he said.
Last year, more than 17 lakh cases were booked against those not wearing helmets.
A bike rider, Junaid, was among those who agreed with the rule. "Only if the rider uses a helmet and the child is without one, it is very risky for a child. So it is very important for the pillion rider also," he said.
People are reluctant to wear helmets for many reasons - the heat, the discomfort of carrying around the helmet and even worry about their hair.
"Many people have the false notion it leads to hairfall. To counter such perceptions some time ago we signed up (cricket star) Rahul Dravid as a brand ambassador for a campaign as he was known for batting all day wearing a helmet," said Dr Saleem.