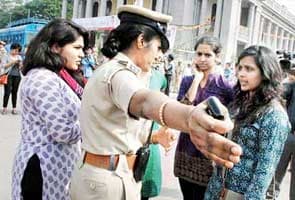 Bangalore:
A large group of Bangaloreans intending to voice their opinion against sexual abuse and eventual victim blaming decided to take to the streets yesterday.
However, following strong opposition from some organisations, the city police revoked the permission and that too, merely hours before the event.
"On Saturday night, two police officials came to my home with a letter revoking the permission. We were told that some right wing organisations had threatened to go violent if we carried out the march," said Dhillan Chandramowli, the chief organiser.
Speaking to MiD DAY, Additional Commissioner of Police (Law & Order) T Suneel Kumar, said, "We have received intelligence inputs that there was a threat to the law and order situation. Hence, we revoked the permission."
A group of volunteers had assembled at the venue to inform participants about the cancellation of the event.
"We were informing the crowd to leave but the cops caught hold of nine of us and took us to the police station," said Yashasavi Datta, a student of National Law School.
Before detaining them at Sadashiv Nagar police station for two hours, the volunteers were allegedly taken to five different police stations.
What's in the name?
The organisers have drawn flak from all quarters because of the name they had chosen for the event. Many groups have claimed that 'Slut Walk' has a perceived notion of encouraging women to dress up in skimpy clothes.
Sri Ram Sene Chief Pramod Muthalik said, "I thank the police for taking these people into custody. They are spoiling the culture and are encouraging women to indulge in obscenity."
The group alleged that a Malleshwaram-based NGO had threatened to beat up women with broomsticks if they strutted around in skimpy outfits.
"Few social activists and members of political outfits called us to find out the nature of our movement. We want to clarify that the event wasn't about dressing in short skirts, but about victim bashing post a rape case," said Vikram Hemanathan, a volunteer.
He, however, argued that the name wouldn't be changed just to please certain sensibilities. "We won't change the name for political buttering," Hemanathan said.
Meanwhile, the organisers have urged various groups to take part in a healthy discussion to break the misconceptions about the event.
'Unacceptable'
Protestors claimed over 23,000 rape cases were reported in India in 2010, however the conviction rate was a mere 26.6 per cent.
The number of cases of sexual abuse went up by 40 per cent in 2011. "While rape victims walk scot-free, a silent awareness march against sexual abuse is stopped by the police. This is completely unacceptable," said a volunteer.