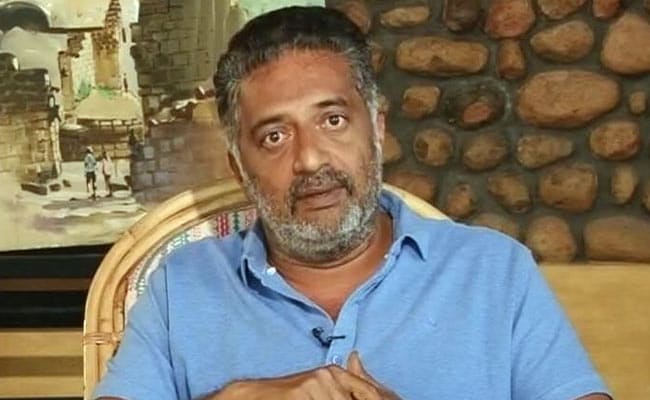 Bangalore:
Days after union minister Anant Kumar Hegde stoked a
controversy
with his remarks that his party, the ruling BJP, will "soon change the Constitution" that mentions the word "secular", noted south India actor Prakash Raj demanded to know "what does this minister know about secularism" and suggested that the minister should "first read the preamble of the Constitution and be a little educated about what he is talking about".
Mr Hegde's statement led to protests in the parliament today with the opposition demanding his sacking in both Lok Sabha and Rajya Sabha. The
BJP had earlier distanced itself
from his comments. "What he spoke about is not an issue for us," BJP spokesperson for Karnataka, Vamanacharya, was quoted as saying by news agency IANS.
Mr Hegde, known for his controversial comments, was addressing a gathering in Karnataka's Koppal district when he urged people to "claim with pride that they are Muslim, Christian, Lingayat, Brahmin, or a Hindu," adding, "Those who, without knowing about their parental blood, call themselves secular, they don't have their own identity...They don't know about their parentage, but they are intellectuals."
The 49-year-old minister went on to say, "Some people say the Constitution says secular and you must accept it. We will respect the Constitution, but the Constitution has changed several times and it will change in the future too. We are here to change the Constitution and we'll change it."
"What's this nonsense?" asked Prakash Raj while speaking to NDTV and added, "Look at his language, his thought-process. Look at what is he hinting at. What's his agenda? He says we have come to change the constitution. Who are 'we'? I would like to ask our beloved prime minister if he is okay with what this man is saying or is it this man's individual thought process."
In an open letter to Mr Hegde, he said secularism is about "respecting and accepting diverse religions", and does not mean that a person does not identify with any religion or belief.
Mr Ananth Kumar Hegde ...as an elected representative ...how can u stoop down so low ...by commenting on ones parenthood ... #justaskingpic.twitter.com/E3Z2CDrXJd

- Prakash Raj (@prakashraaj) December 25, 2017
Continuing his attack on Mr Hegde, the actor siad he a "violent person" and requested the citizens of the state to "vote him out as he is the most dangerous person for the country's secular and wonderful values".
"It's against humanity. It's intolerance at its peak. This man talks and gets away with (statements) such as 'he wants to wipe out Islam from this earth'. He manhandles a hospital staff. In all his speeches he incites violence. He doesn't cry for communal violence. He politicises such deaths. These aren't the free thinkers or leaders we need in this country. Thank God, the Constitution was in the hands of Dr BR Ambedkar and not people like him. This is fascism... a reincarnation of Hitler," he said.
Anant Kumar Hegde, a five-time Lok Sabha member from Uttara Kannada, was inducted into Prime Minister Narendra Modi's cabinet in August this year. Even though the BJP has clarified its stance regarding the controversy, Mr Raj, 53, questioned the absence of any action against the minister.
"The worse is going to come if no action is taken," he said and warned that "Karnataka and the citizens of the country are not going to take this lying down".
The critically-acclaimed actor had also criticised Prime Minister Narendra Modi for his silence following journalist Gauri Lankesh's murder.
"Silence is becoming louder and louder. I have little hope but I wish they take action against Hegde and disassociate with such people who are dangerous enemies of the society," he said.
When asked if he, too, like actors Rajinikanth and Kamal Haasan, plans to take a political plunge, Mr Raj said, he doesn't need be part of any political party to "stand by the citizens of the country".
"It's not important for people like me to join any political party. Also, I have no issues with actors coming to power as long as they give me hope and make me believe that they have something to offer to bring about a change that we need. And anyone who offers that, we will stand by them," he said.