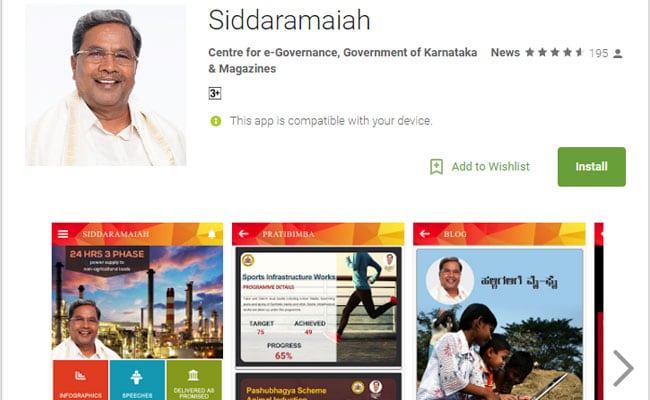 Bengaluru:
If you want to reach the chief minister in Karnataka, there's now an app for that. The app, Siddaramaiah, named after the chief minister, will give citizens information about government projects and also help them reach out to the CM with suggestions and feedback. It is available on both Android and Apple phones.
Releasing the app, chief minister Siddaramaiah said, "This is the CM's app. This is one way for citizens to directly reach the chief minister. The government's programmes, how to reach the people - and to hear problems from the public... And get suggestions from the public... This is the digital age. There is a mobile phone in everybody's pockets - and that is not just to chat with people. It does the work of the computer."
Another app was also released which aims at collecting accurate crop data - from the farmers themselves. And farmers with smartphones are also being offered the app on which they can upload their own crop data.
Agriculture minister, Krishna Byre Gowda, said, "So in order to get accurate and effective data, the government of Karnataka revenue department has developed an app which is not only GPS enabled but also with Geo-referencing which means that our primary worker has to go to the spot and update information. While this could take thousands of our primary workers to span out across the state... we have launched an app which enables farmers to upload their own crop data, so whatever the farmer has sown can be uploaded through an app... This will also be useful due to calamities like drought and flood if we have to pay compensation then we know exactly which farmer has what crop and what extent."
Smartphones bringing the government and people closer - at least that is the hope.