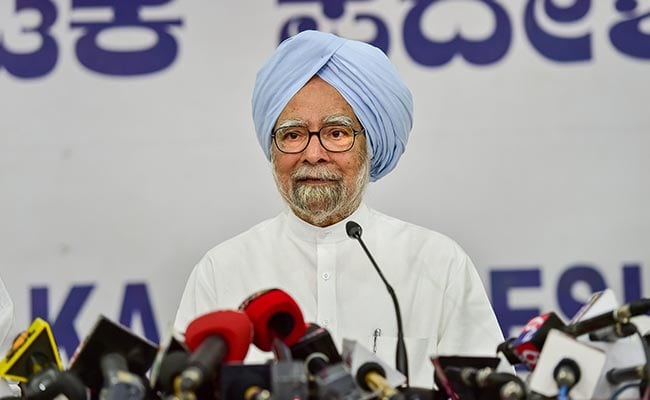 Highlights
Dr Manmohan Singh said the government reversed UPA government's successes
Dr Singh accused the government of causing country losses
He said people have lost faith in the banking sector
Bengaluru:
Former Prime Minister Manmohan Singh, one of the world's best known economists, today accused the Narendra Modi government of 'systematically" dismantling Indian economy, the third-largest in the world. Presenting a report card, he said in just four years, PM Modi's government has reversed the successes of the UPA government.
Today, people have lost faith in banking sector, farmers are facing an acute crisis, aspirational views are not finding opportunities, he said. The "virtuous intentions" of the Narendra Modi government has caused the country massive losses due to its "lack of reasoning and analysis", Dr Singh told the media in Karnataka.
The author of liberalization that turned around the economy from its lowest ebb, Dr Singh said, "It took years to make Indian economy the third largest economy... now it is being systematically dismantled".
From above 7 during the UPA government, the growth figure has dropped despite favourable international climate, low oil prices and the government's "changing numbers" to "present a rosy picture," he said.
The series of crises the country faced was avoidable, Dr Singh said, accusing the government of stifling all dissent.
The scathing attack by the 85-year-old former Prime Minister comes less than a week before the assembly elections in Karnataka. The Congress government of Siddaramaiah is fighting for a second term in the state in face of a tough BJP challenge.
Dr Singh accused the government of increasing petrol and diesel prices by 110 per cent even though the international prices are 67 per cent down. "Through constant increase in taxes the BJP government is projected to have earned over 10 lakh crore. India must demand answers as to what use this money was put to?" he said.
Avoidable blunders like demonetization and hasty implementation of the Goods and Services Tax have hurt the small, medium and micro enterprise sector, costing tens of thousands of jobs, he said.
At the same time, PM Modi tends to blame everything on 70 years of Congress rule, said the former Prime Minister, who led the UPA government for a decade.
"He forgets the role of Green Revolution -- it made the nation a net exporter of food grains. The PM doesn't mention the role of liberalising economic policies that have transformed India in the last 25 years. Right to Information, Right to Education, Food Security Act, MNREGA, Forest Rights Act, grant of Special Status to a region in Karnataka... PM forgets that UPA policies lifted 140 million people out of poverty in 10 years," Dr Singh said.