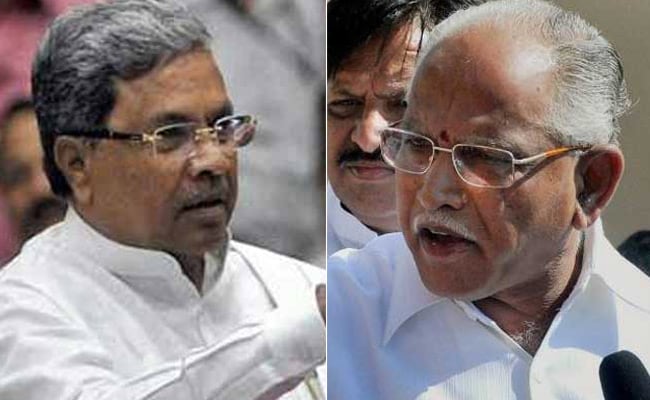 New Delhi:
As campaign for the Karnataka assembly elections picks up, "15 minutes" seems to have emerged as the preferred refrain of both the Congress and the BJP for trading political punches at each other.
The catchphrase first used by Congress president Rahul Gandhi last month to target Prime Minister Narendra Modi was used by Chief Minister Siddaramaiah a day after
PM Modi challenged
the Congress boss in his own language by questioning the performance of the Congress government in Karnataka.
"I challenge you to speak for 15 minutes on the achievements of your government in Karnataka without reading from any piece of paper," PM Modi had said at a rally in Chamarajanagar on Tuesday. He was responding to
Rahul Gandhi's dare
that if he was allowed to speak in parliament for 15 minutes about issues such as corruption, the prime minister would not be able to sit through.
Mr Siddaramaiah today raised questions about the earlier BJP regime in the state headed by BS Yeddyurappa who was forced to quit after a Lokayukta report on illegal mining indicted him.
"I challenge you to speak about the achievements of B S Yeddyurappa's Govt in Karnataka for 15 minutes by looking at a paper," tweeted Mr Siddaramaiah.
The chief minister also refuted the prime minister's claim that that the Karnataka government was "indifferent" to the plight of farmers and was not effectively implementing the crop insurance scheme launched by the centre.
"Ours is the only Govt in the country that has deployed IT to directly pay the insurance amount into farmers' account. Also crop insurance is old UPA scheme," tweeted Siddaramaiah.
Earlier in the day, addressing members of the BJP's farmer wing, PM Modi had said he kept "getting complaints from Karnataka" about the crop insurance scheme.