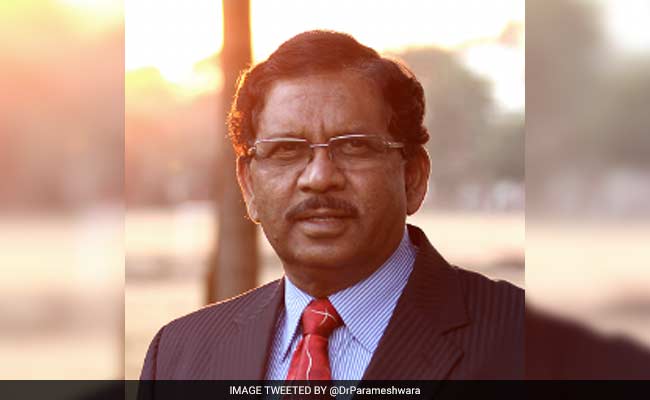 Bengaluru:
Karnataka deputy Chief Minister G Parameshwara said today that no talks have been held so far between his party and Janata Dal (Secular) over seat-sharing for the general elections, which both the parties have decided to contest as a pre-poll alliance.
Speaking to reporters here prior to a meeting with the party workers to introspect the party's performance in the recent state Assembly elections, the senior Congress leader said the alliance with JDS is aimed at keeping the Bharatiya Janata Party (BJP) out of power in 2019.
"We have forged an alliance (with JDS) for the Lok Sabha elections too, to keep BJP away from power. We have not discussed seat sharing (so far). Both parties will sit across the table to decide on the seats.
"Myself and Chief Minister H D Kumaraswamy will sit together and decide the candidates, based on their strengths without leaving room for any confusion," Mr Parameshwara, who is also the state Congress president, said.
On the reported rift over allocation of portfolios, he said the Congress got 22 portfolios, which it would distribute without any hassle. It was binding on both parties to stick to the decision taken in the coalition government, he added.
Asked about the issue of Congress lawmakers demanding a ministerial post, Mr Parameshwara said there were suggestions that a person who had held the minister's post more than two times should not be given any portfolio.
"I have forwarded their suggestions to the party high command to take a call on that," the deputy chief minister said.
To a query on raids carried out by the Central Bureau of Investigation (CBI) on those linked to Congress leader D K Shivakumar and his lawmaker brother, D K Suresh, he said he was not aware of the agency pressurising those it questioned to name Mr Suresh in connection with alleged illegal conversion of demonetised currency.
He, however, denounced the attempt to frame a person in the name of investigation and interrogation.
"It is a fact that the entre is misusing the CBI," Mr Parameshwara alleged.
On the appointment of new party president of the state, Mr Parameshwara said there are many aspirants for the post and many of them are more capable than him.
Backing Mr Kumaraswamy's decision to ban mobile phones during meetings chaired by him, Mr Parameshwara said it would help carry out work without causing any embarrassment.
KC Venugopal, the party's general secretary in charge of the state, had said yesterday the Congress and the JDS would fight the next Lok Sabha elections, due next year, as a pre-poll alliance.